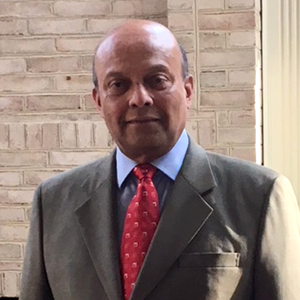 Nihal W. Goonewardene is former president and chief executive officer (1990-2012) of International Science and Technology Institute, Inc. (ISTI). He received his formative education in Sri Lanka and worked in the commercial sector for three years before completing a bachelor's degree in political science in 1972 at Oakland University in Michigan, where he also coached its judo program. He studied at the Fletcher School of Law and Diplomacy at Tufts University, earning two graduate degrees by 1975, while working part time as an editor at the Boston Globe.
Goonewardene's immersion in international development began in 1976 with assignment to Manila as the Fletcher School's regional representative. He managed a World Bank-funded agriculture project in Mindanao (the Philippines) while developing undergraduate business education programs in southeast Asia. Goonewardene joined ISTI in Washington, D.C. in 1978 and helped the start-up make its mark globally, managing more than 200 projects for USAID, the UN agencies, the World Bank, and the Asian Development Bank. He remains active with the Fletcher School, serving on its board, leading its program to provide internship stipends and placements to U.S. and foreign students of color, chairing the Fletcher Annual Fund, and through other duties.
Goonewardene is a past president of the Sri Lanka Association of Washington, D.C. and its charitable arm, Sri Lanka Association of Greater Washington, Inc., which provided vital help under his leadership in the reconstruction of coastal Sri Lanka following the 2004 Asian tsunami.