Key Milestones for 2020 Census
Schedule Adjustments for U.S. 2020 Census

Notes: Enumeration of people who are homeless will take place at service locations (shelters, soup kitchens, mobile food vans) and unsheltered outdoor locations. Changes in the dates for apportionment counts to the president and redistricting data to states require congressional approval.
Source: U.S. Census Bureau, "2020 Census Operational Adjustments Due to COVID-19," as of June 9, 2020, https://2020census.gov/en/news-events/operational-adjustments-covid-19.html?#.
2021 and Beyond
Census Bureau transmits redistricting files to states in 2021.
Redistricting files contain housing unit counts and population data by race/ethnicity, voting age, and gender.
NEW: Redistricting files will contain group quarters data.
Other products releases, dates TBD (ongoing through 2022).
2020
Advertising begins in January.
Data collection begins (March 2020).
Census Day: April 1, 2020.
First Data Release (originally planned): December 31, 2020 (state totals reported). Important note: This date could change.
2019
Field offices begin to open.
Evaluation of End-to-End Test.
Defect Resolution and Performance Testing.
Formation of Complete Count Committees.
Early Education Phase of Communications Program begins.
Address Canvassing is completed.
2018
Question wording sent to Congress by March 31.
End-to-End Census Test and Nonresponse Follow-up completed (April 1 is Census Day).
Partnership program begins.
2017
Report to Congress on Subjects Planned for 2020 Census.
Local Update of Census Addresses (LUCA) begins.
Address Canvassing begins for 2018 end-to-end test.
Residency Rules announced.
Pre-2017
Release 2020 Census Operational Plan.
Conduct testing.

Why Are So Many Young Children Undercounted in the U.S. Census?
Author
Vice President, U.S. Programs
Senior Public Relations Manager
Focus Areas
Children under the age of 5 face the highest risk of being undercounted in the U.S. decennial census. In the 2010 Census, there was a net undercount of almost 1 million young children. PRB estimates that at least 4 million children live in areas with a very high risk of undercounting young children in the 2020 Census.
As households prepare to fill out their census forms, this primer explains why young children are missed and why it matters.
Why are so many young children missed in the U.S. census?
Children under the age of 5 are undercounted for several reasons, which can vary across different neighborhoods. Some adults may not realize that babies, toddlers, and young children are supposed to be included in the census and leave them off the census form. Children's living arrangements also play an important role in child undercount. Young children who live in female-headed households or grandparent-headed households are at higher risk of being missed, as are those who live in blended families or multigenerational households. Also, children who split their time between multiple households—like those in joint custody arrangements—are at greater risk of being missed. PRB analysis suggests that two measures currently being used to identify areas where young children are more likely to be missed—the 2010 Census mail return rate and the Low Response Score (also based on mail return rates)—are not very good predictors of net undercount rates for young children in large counties. A 2020 PRB paper shows that young children are more likely to be missed in neighborhoods with high shares of:
Children under age 5 living in poverty.
Adults ages 18 to 34 without a high school diploma or GED.
Children living in female-headed households with no spouse present.
Children under age 6 living with grandparent householders.
Households that are limited-English speaking.
Children living in immigrant families.
People living in renter-occupied housing units.
How long has the undercount of young children been an issue?
The undercount of young children is not a new issue. Demographers have found evidence of undercounts as far back as the 1880 Census. However, since 1980, the net undercount rate for young children in the U.S. decennial census has been increasing while the rate for adults has been falling. If unchecked, the undercount rate of young children may continue to climb.
What is the potential impact of undercounting young children?
Census data are used to allocate federal funding for programs such as Head Start and the Supplemental Nutrition Assistance Program (SNAP) and guide policy planning by states and local jurisdictions. When young children are missed, communities do not get their fair share of federal resources, and local policymakers do not have accurate information to develop long-term plans for schools and other services.
What can be done to address the undercount of young children?
Community organizations and others need new tools to better pinpoint neighborhoods that require special outreach and attention during the decennial census. The Count All Kids initiative has resources that advocates can use for outreach, including links to a PRB database and an interactive map (developed by the CUNY Mapping Service at the City University of New York's Graduate Center) that show the risk of undercounting young children across census tracts in nearly 700 large U.S. counties.

2019 American Community Survey Data Users Conference Highlights
In May, Linda Jacobsen, Lillian Kilduff and I helped organize a conference for nearly 300 American Community Survey (ACS) data users. This is the fourth ACS conference PRB has organized in partnership with the U.S. Census Bureau since 2014. If you missed the conference this year, don't worry. We posted PDF versions of the conference presentations and recordings of the plenary sessions on the conference website.
2019 ACS Conference - Updates on the ACS and 2020 Census: Agility in Action
Organizing a conference is kind of like organizing a wedding. It involves a lot of preparation, and when the big day finally arrives, you spend a lot time making sure everything is running smoothly. But now that a few weeks have passed, I wanted to take a step back and summarize some of my key takeaways from the event.
The conference began with some Census Bureau updates on ACS activities and operations. Steven Dillingham, the Census Bureau Director, expressed the importance the ACS and said "data users are the key to the continuous improvement" of the flagship survey. Regarding the 2020 Census: Dr. Dillingham said operations are on track, but with more than 26,000 distinct activities, there is still a lot of work to be done.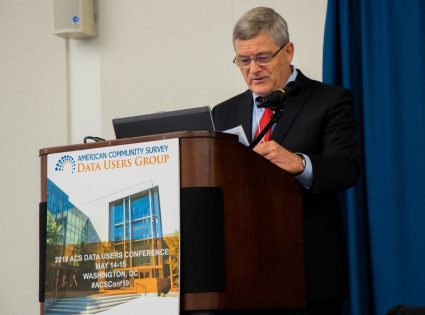 Steven Dillingham, Director, U.S. Census Bureau
Jim Treat (Assistant Director for Decennial Census Programs) announced the 2018 ACS data release schedule, which has shifted because of the lapse in federal funding earlier this year. He also provided high-level updates on several ACS Program activities, including a recent Workshop on Improving the American Community Survey,  the new data.census.gov platform, efforts to ensure respondent confidentiality, and updated ACS Data User Handbooks, which include detailed case studies on how ACS data are being used for decisionmaking.
Next, Jennifer Ortman (Assistant Division Chief for Survey Methods and Measures in the American Community Survey Office) summarized the Census Bureau's ongoing efforts to ensure the quality of ACS data. These efforts include changes to the 2019 ACS questionnaire and plans to use administrative records to reduce respondent burden, increase data reliability, and reduce costs.
Protecting Respondent Privacy
The plenary session on Day 2 began with a Census Bureau update on new "disclosure avoidance" methods that could have long-lasting implications for ACS data users. As computational power has grown, privacy concerns and the risk of someone "re-identifying" ACS respondents has also increased.
Rolando Rodríguez (Research Mathematical Statistician at the Census Bureau) described the Census Bureau's preliminary plans to ensure respondent confidentiality in the ACS. The bottom line is that the ACS will transition to formal privacy methods, but the Census Bureau is currently focused on protecting confidentiality in 2020 Census data, and it's too early to say exactly how ACS data might be affected by new disclosure avoidance methods.
The formal privacy methods developed for the 2020 Census will inform ACS methods, but the ACS has additional features—more topic areas, complex survey design and survey weights, and population controls—that need more research. Once developed, the methods will be used to balance data privacy and data accuracy in the ACS data. For now, the Census Bureau plans to release the "standard complement of ACS tables and public-use microdata (PUMS) for 2018," but is exploring the possibility of expanding the use of synthetic data to protect the PUMS data. Rolando also emphasized the Census Bureau's commitment to data user involvement and feedback as these new formal privacy methods are adopted for the ACS.
Streamlining Data Dissemination
Zach Whitman (Chief Data Officer at the Census Bureau) began his presentation with this chart, which shows the complex web of data tools currently available through the Census Bureau's website.
This "forest of applications" is being replaced with a more centralized system (data.census.gov) designed to simplify access to Census Bureau data, including ACS estimates. What does this mean for ACS data users? Starting in June 2019, there will be no new data releases in American FactFinder (AFF). Zach encouraged data users to visit the new site and provide feedback: What you like and don't like, and what changes you would like to see in future iterations (Email: cedsci.feedback@census.gov).
In her remarks, Connie Citro (Senior Scholar at the Committee on National Statistics) applauded the Census Bureau's efforts to invite input from ACS data users but encouraged more "systematic, two-way interaction" between data users and Census Bureau staff "to best ensure that new privacy protection techniques and the new platform are implemented with full consideration of alternatives and user needs."
ACS Data User Insights
The plenary sessions focused on informing data users about Census Bureau activities, but the main purpose of the conference was to showcase the work of ACS data users. The program included more than 50 presentations from data users representing a broad range of government agencies, academic institutions, and private-sector organizations.
Breakout session topics included:
ACS Resources and Tools
Using the ACS to Study Racial, Ethnic, and Geographic Variations in Health
ACS Data for Rural and Tribal Communities
Combining ACS With Other Survey or Administrative Data
Developing Estimates and Projections Using ACS Data
Using the ACS to Analyze Poverty and Income
Using ACS Data to Measure Disparities in Internet Access
Using ACS Data in the Classroom
Measuring ACS Data Quality
Innovative Uses of the ACS for Housing Analyses
Lightning Session
Advanced Tools Using ACS Data
Aggregating ACS Data for User-Defined Areas
Innovative Health Applications with ACS Data
During lunch on the first day, many ACS data users participated in informal meetups to discuss various topics and issues related to ACS data, including:
ACS and Big Tech: Applications of ACS data for tech companies
ACS PUMS: Techniques and working with margins of error
Journey to work data: Implications of new allocation process for ACS tables
Small-area estimation with ACS data
Undercount of children in the ACS
And during lunch on the second day, Census Bureau staff were on hand to lead product demonstrations and topical roundtables:
2020 Census Integrated Partnerships and Communications Program
About the Data Dissemination Program
American Community Survey General Information
Ask Our Subject Matter Experts
Census Academy
Creating Custom Tables with PUMS on data.census.gov
Utilizing OnTheMap for Response and Recovery during a Natural Disaster
Geography and the American Community Survey
Hispanic Origin and Race Questions
Introducing Census Business Builder
Planning Database and Response Outreach Area Mapper
Transitioning from AFF to data.census.gov
I want to thank all of the data users and Census Bureau staff who attended the 2019 conference, presented their work, and posted conference updates on Twitter.
A special thanks to members of our ACS Steering Committee and our Census Bureau partners for their help in organizing the conference. Their behind-the-scenes efforts were critical to the success of the event.
Webinar: 'The Demography of Inequality in the United States'
Webinar: 'The Demography of Inequality in the United States'
In this webinar, co-authors Mark Mather, associate vice president of U.S. Programs at PRB, and Beth Jarosz, research associate in U.S. Programs at PRB, presented findings from a new PRB Population Bulletin on "The Demography of Inequality in the United States."

Persistent Racial/Ethnic Gaps in the U.S.
Product: Population Bulletin, vol. 69, no. 2: The Demography of Inequality in the United States
The U.S. population is undergoing significant racial/ethnic change, with rapidly growing Latino, Asian American, and multiracial populations.
Immigration has played a key role in these racial/ethnic changes, putting the United States on a path to become "majority minority" by 2043. But the population under age 18 is projected to reach this milestone much sooner—by 2018 or 2019, depending on future levels of immigration. Some of the fastest-growing groups—especially Latinos—are also the most vulnerable, lagging behind other groups on many measures of social and economic well-being.
The good news is that, over the long term, the economic divide between different racial/ethnic groups has narrowed. In 2013, there was a 13 percentage-point gap between the poverty rate of non-Hispanic whites (10 percent) and racial and ethnic minorities (23 percent). This represents a 7-percentage point decrease in the poverty gap since 1987, when the poverty rate for minorities was much higher, at 29 percent. While the poverty rate for whites increased slightly during this 25-year period, from 9 percent to 10 percent, the poverty rates for blacks, Latinos, and Asians declined (see Figure 6).
---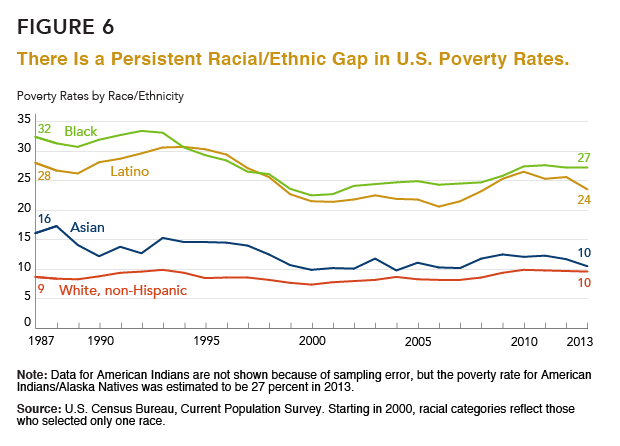 ---
The bad news is that, in the short term, the recession contributed to a growing poverty gap between Asians and whites versus blacks and Latinos, who were disproportionately affected by job losses during the economic downturn. But the gap also reflects longer-term demographic changes in the U.S. population. Baby boomers, who are mostly white, are reaching retirement age and can receive Social Security income, while young children and their families are more likely to be racial/ethnic minorities and are at a higher risk of being poor. The racial/ethnic divide between generations may contribute to a growing economic gap across different racial/ethnic groups—with an aging white population eligible for benefits that help keep them above the official poverty line, and a younger and racially diverse population entering the workforce during a period of economic instability. If current disparities persist, the number of people living in poverty is projected to increase with the rising share of lower-income racial/ethnic minorities (see Box 3).
White households are also wealthier, on average, compared with black and Latino households. Data from the Survey of Income and Program Participation show that median net worth of whites was over $110,000 in 2011, compared with just $6,300 for black households and $7,700 for Latino households (see Figure 7).
---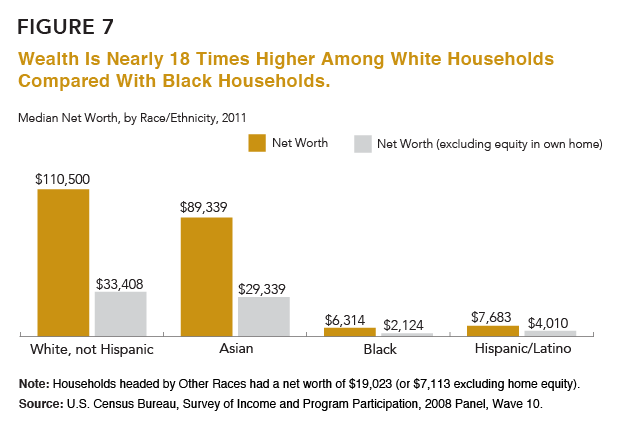 ---
The wealth gap can be explained largely by differences in homeownership and home values between groups, as well as higher levels of private transfers of wealth (for example, through large gifts or inheritances) among whites compared with blacks and Latinos.24 With higher incomes, white families are able to purchase homes eight years earlier, on average, compared with black families, generating more equity and potential for growth in assets.25 Finally, although buying a home remains an important first step toward economic security, homeownership became a liability for many lower-income families during the recent recession. High interest rates, falling home prices, and the rise in foreclosures wiped out trillions of dollars of accumulated wealth.
---
Box 3
Projecting U.S. Poverty
Reducing poverty will be difficult unless the economic circumstances of blacks, Latinos, and American Indians improve. Between 1980 and 2013, the proportion of racial/ethnic minorities in the U.S. population increased from roughly 20 percent to 37 percent. By 2030, minorities are expected to make up 45 percent of the population. Based on this projection and assuming current poverty levels persist in the future, the number of people in poverty could increase to 68 million by 2050, up from 45 million in 2013 (see figure). However, if the poverty gaps were eliminated, so that poverty rates for all racial/ethnic groups were no higher than those for non-Hispanic whites in 2013, the number of people in poverty in 2050 would drop below the level in 2013, to 44 million.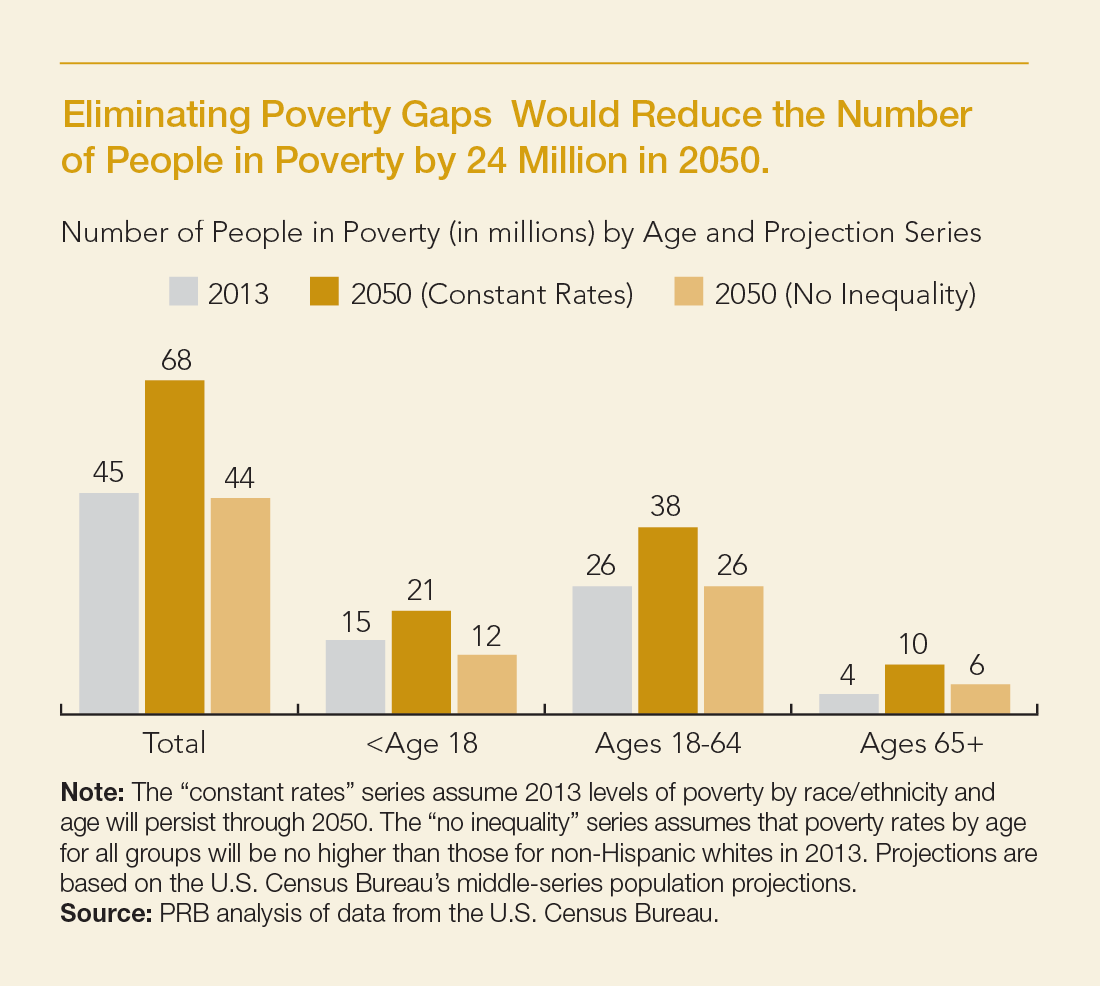 Closing poverty gaps across different racial/ethnic groups would benefit children more than working-age adults or the elderly, because of the changing racial/ethnic composition of the population under age 18. Eliminating racial/ethnic poverty gaps would reduce the number of children in poverty by 45 percent in 2050, compared with the projected number of poor children if current disparities persist until 2050. For the population ages 18 to 64, the number of poor people would be 30 percent lower in 2050 if poverty gaps were eliminated, while the number of poor people ages 65 and older would be 35 percent lower, compared with the projected number if current racial/ethnic gaps persist until 2050.
These numbers are important because of the high individual and social costs of poverty in the United States, especially among children. It is estimated that each year, nearly 4 percent of the U.S. gross domestic product ($500 billion) is spent on crime and health issues associated with childhood poverty in the United States.1
Reference
1. Harry J. Holzer et al., "The Economic Costs of Poverty in the United States: Subsequent Effects of Children Growing Up Poor," accessed at www.irp.wisc.edu/publications/dps/pdfs/dp132707.pdf, on Aug. 5, 2014.
---
POPULATION BULLETIN CHAPTERS
Introduction
The Backdrop: Rising Inequality
Where Poverty and Inequality Intersect
The Generational Divide
Persistent Racial/Ethnic Gaps
Women Making Progress, But Gaps Remain
Education: The Great Equalizer?
Looking Ahead
---
References
24. Signe McKernan et al., "Do Racial Disparities in Private Transfers Help Explain the Racial Wealth Gap? New Evidence From Longitudinal Data," Demography 51, no 3 (2014): 949-74.
25. Thomas Shapiro, Tatjana Meschede, and Sam Osoro, The Roots of the Widening Racial Wealth Gap: Explaining the Black-White Economic Divide (Waltham, MA: Institute on Assets and Social Policy, Brandeis University, 2013).

The Generational Divide in the U.S.
Product: Population Bulletin, vol. 69, no. 2: The Demography of Inequality in the United States
The U.S. recession affected people of all ages. However, in terms of job losses and poverty, young adults and their families were disproportionately affected.
Poverty among those ages 65 and older has been in a long-term decline with the expansion of Social Security and private pension systems while those in younger age groups lack the same financial protections (see Figure 4). Among children and working-age adults, poverty rates are close to all-time highs. In contrast, the poverty rate for those ages 65 and older has dropped fairly steadily over time, from 29 percent in 1966 to just 10 percent in 2013. The poverty rate for older Americans fell below the rate for children in 1974 and has remained lower since. In 2013, the child poverty rate (20 percent) was double the rate for older Americans (10 percent).18
---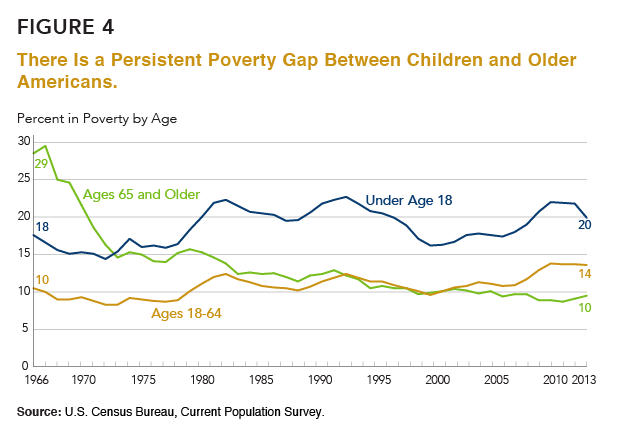 ---
In September 2014, the unemployment rate for those ages 16 to 24 was 14 percent, more than three times the rate for those ages 55 to 64 (4 percent). Young adults are also more likely than those in older age groups to have been unemployed for six months or more during the recession. The result is a persistent poverty gap between younger workers and their children compared with older workers who are closer to retirement age.
Although poverty rates increased sharply during the recession, government transfers and tax credits have helped reduce the economic burden on poor and low-income families. An alternative poverty measure that accounts for additional household expenses and benefits—including programs such as the Earned Income Tax Credit and SNAP/food stamps—shows that antipoverty programs are cutting poverty by nearly 50 percent, from 29 percent to 16 percent.19
Under the alternative poverty measure, the gap between age groups is much smaller—but not eliminated entirely. The Supplemental Poverty Measure (SPM) showed that, in 2013, 16.4 percent of children under age 18 were poor, compared with 15.4 percent of those 18 to 64 and 14.6 percent of those ages 65 and older.20 High out-of-pocket health care expenses, such as payments for prescription drugs, help explain the relatively high poverty rate for older Americans under this alternative measure.
Income trends are similar to poverty trends, with the biggest gains among older Americans. Since 1974, median personal income has increased fairly steadily among those ages 65 and older, while income has fluctuated for those in younger age groups (see Figure 5). These diverging trends have resulted in a crossover in income among baby boomers ages 55 to 64 compared with people ages 25 to 34. Income among the older population has increased with the expansion of Social Security benefits and—since the mid-1990s—the rising share of older Americans in the labor force.21 Many older workers have delayed retirement, partly as a response to the recent economic downturn.22
---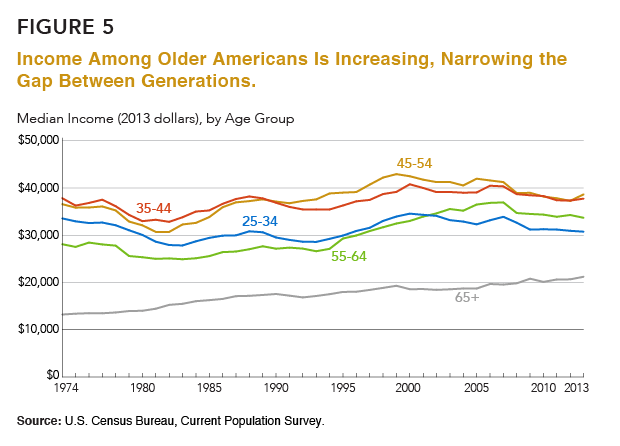 ---
Part of this decline may reflect young adults staying in school, but there has also been a sharp increase in young adults who are "idle"—neither employed nor in school. Among young men ages 25 to 34, 17 percent were idle in 2013, up from 14 percent in 2007, and the recent increase has been driven primarily by a decline in employment among African Americans and Latinos.23
---
Box 2
The Growing Owner/Renter Gap
Nationwide, about 35 percent of householders have a high cost burden, meaning that they are spending 30 percent or more of their income on housing expenses.1 Historically, owners have had a lower cost burden than renters—who tend to be younger and have less income. But during the past decade, this gap has grown, from an 18 percentage-point difference in 1999 to a 26 percentage-point gap in 2013 (see figure).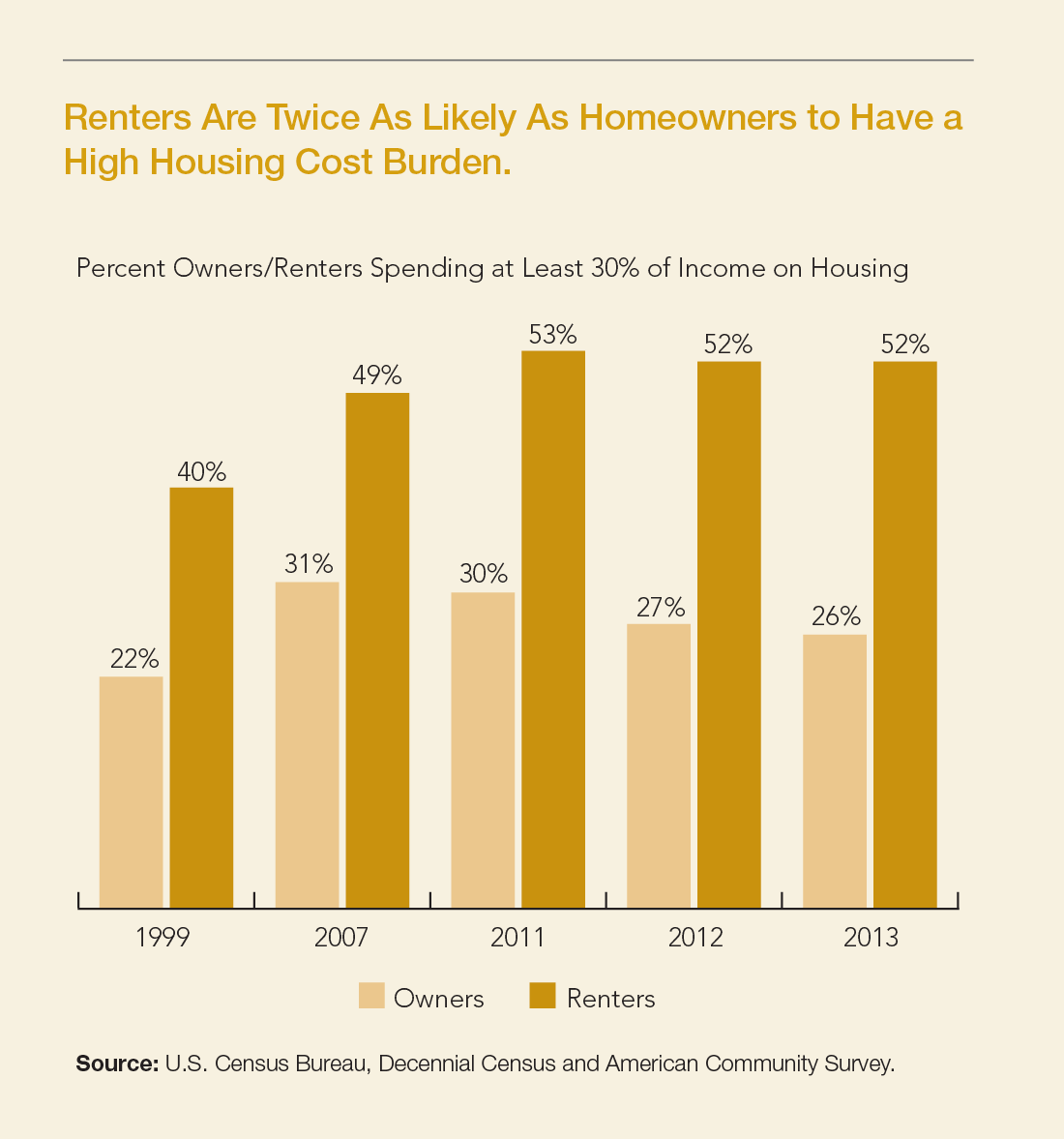 Between 1999 and 2007, homeowners and renters experienced sharp increases in housing cost burdens as home prices and rental costs soared. But between 2007 and 2011, the cost burden for homeowners dropped, while the share of renters with high cost burdens increased. In 2013, more than half of all renters (52 percent) still had high cost burdens—twice the percentage of homeowners (26 percent).
The gap in housing affordability between owners and renters exacerbates the economic divide between older and younger age groups because older Americans are more likely to be homeowners. In 2013, 48 percent of householders ages 25 to 44 owned their home, compared with 72 percent of those ages 45 to 64 and 78 percent of those ages 65 and older. Today, fewer young adults are buying homes, which may reflect delays in marriage and family formation as well as the impact of the recession. During the recession, many young adults lost their homes to foreclosure, were unable to secure a home mortgage, or postponed buying a home because of job and housing market volatility.2
The decline in housing affordability among renters is likely due to a combination of falling incomes and rising median monthly rental costs, from $814 in 2000 to $905 in 2013 (after adjusting for inflation). The rush of former (and potential) homeowners into the rental market has likely played a role in rising rental costs, driving up demand in a tight housing market. Rising rental costs are especially hard on low-income families and their children, who often struggle to cover basic expenses including food, transportation, child care, and health care.
---
POPULATION BULLETIN CHAPTERS
Introduction
The Backdrop: Rising Inequality
Where Poverty and Inequality Intersect
The Generational Divide
Persistent Racial/Ethnic Gaps
Women Making Progress, But Gaps Remain
Education: The Great Equalizer?
Looking Ahead
---
References
1. The U.S. Department of Housing and Urban Development considers housing "affordable" if total expenses (rent or mortgage payments, taxes, insurance, utilities, and other related payments) account for less than 30 percent of total household income.
2. C. Eugene Steuerle et al., "Lost Generations? Wealth Building Among Young Americans," accessed at www.urban.org/publications/412766.html, on Sept. 20, 2014.
3. Jessica A. Bean, "Renters More Often Burdened by Housing Costs After Recession: Nearly Half of All Renters Spent Over 30 Percent of Income on Housing by 2010," accessed at http://scholars.unh.edu/cgi/viewcontent.cgi?article=1168&context=carsey, on Sept. 20, 2014.
---
18. Although relatively few older Americans live below poverty, about 15 percent were below 125 percent of the poverty threshold in 2013.
19. Christopher Wimer et al., Trends in Poverty With an Anchored Supplemental Poverty Measure (2013), accessed at http://socialwork.columbia.edu/sites/default/files/file_manager/pdfs/News/Anchored%20SPM.December7.pdf, on Oct. 21, 2014.
20. Kathleen Short, "The Supplemental Poverty Measure: 2013," Current Population Reports P60-251 (2014).
21. Michael V. Leonesio et al., "The Increasing Labor Force Participation of Older Workers and its Effect on the Income of the Aged," Social Security Bulletin 72, no. 1 (2012).
22. Richard W. Johnson, Mauricio Soto, and Sheila R. Zedlewski, How Is the Economic Turmoil Affecting Older Americans? (Washington, DC: The Urban Institute, 2008).
23. Linda A. Jacobsen and Mark Mather, "A Post-Recession Update on U.S. Social and Economic Trends" (December 2011), accessed at www.prb.org/Publications/Reports/2011/us-economicsocialtrends-update1.aspx, on Aug. 20, 2014.

The Backdrop: Rising Inequality in the U.S.
Product: Population Bulletin, vol. 69, no. 2: The Demography of Inequality in the United States
The poverty rate is one of the most widely reported measures of economic well-being in the United States, but rising income inequality has been a defining characteristic of the U.S. economy during the past 50 years.
Poverty rates have fluctuated over time, increasing during periods of job loss and decreasing when the economy recovers (see Figure 1). But In 2013, the national Gini Index—the most widely used measure of inequality—stood at .476, up from .463 in 2007 and .397 in 1967. A Gini value of zero means that all households have equal income, while a value of 1 means that only one household has all of the income, so higher values are equated with greater levels of inequality. In 2012, the Gini Index value matched the highest level ever recorded in the United States. Another measure of inequality, based on the share of income received by the top 20 percent of households, shows a similar increase. In 2013, the top 20 percent of households controlled over half (51 percent) of all household income.
---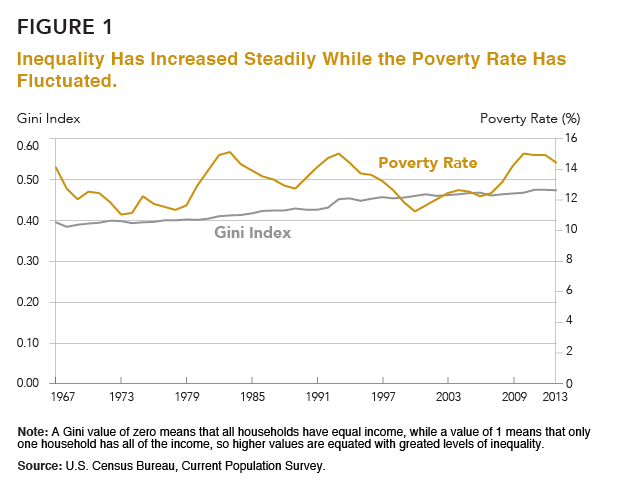 ---
The Occupy Movement drew attention to rising income inequality in the United States with their slogan, "We are the 99%." During the recession, income among the top 1 percent of families fell with the stock market crash and declines in earnings from capital gains. However, this decline was only temporary. By 2012, the top 1 percent of families—those with annual incomes over $394,000—controlled 22 percent of U.S. income, up from 18 percent in 2009.6
The increase in income inequality is not unique to the United States. Many other countries have seen growing income gaps—especially Estonia, France, Greece, Ireland, Japan, Slovenia, and Spain.7 But today the United States has one of the highest levels of income inequality among developed nations (see table). With an adjusted Gini Index of .38, the United States ranks just slightly below Turkey and is tied with Israel. Levels of income inequality are substantially lower in Canada (.32), France (.30), and Germany (.29).8
---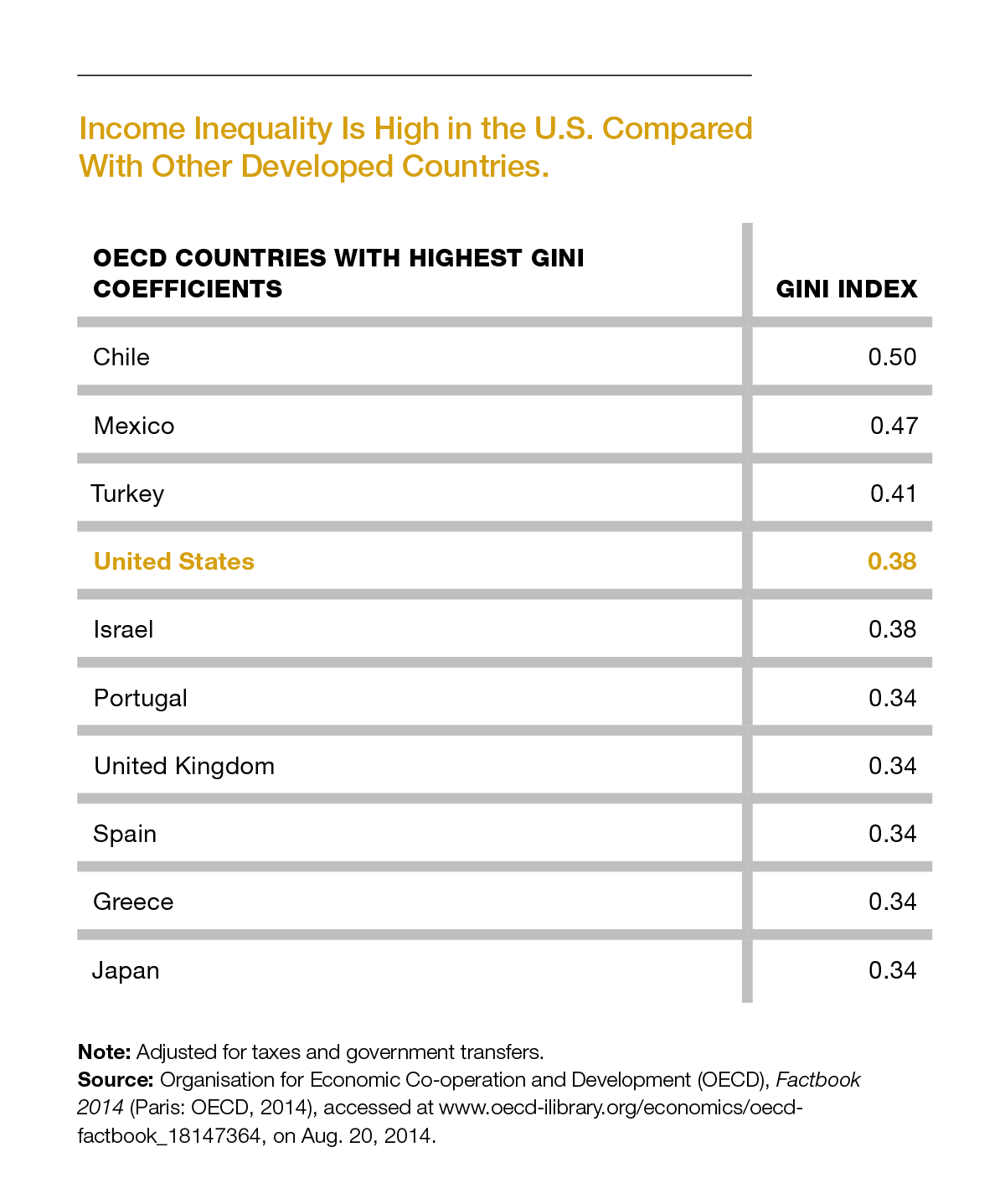 ---
The Growing Wealth Gap
Gaps in household net worth, or wealth, are not reported as widely as differences in income, but in some respects, wealth is a better marker of family well-being. Among more-affluent households, wealth is mainly tied up in the stock market, but for most Americans, and especially those living in lower-income families, a home is the most valuable asset they will ever own. Homeownership provides a basic source of economic security and can shield families against material hardship by providing a cushion in the case of sudden loss of income. Owning a home also contributes to residential stability, civic engagement, psychological well-being, and children's educational success.9
In the United States, the wealth gap is larger than the income gap, sharply dividing those at the top and bottom of the economic ladder. The Great Recession led to broad, across-the-board declines in wealth, but those at the top experienced smaller declines, in relative terms, compared with those at the bottom. As a result, the level of wealth inequality in the United States increased in the aftermath of the recession. Between 2007 and 2013, average wealth among the top 5 percent of households fell by 16 percent, compared with a 43 percent decline among middle-class households at the 50th percentile. By 2013, the top 5 percent of households had an average net worth 24 times that of households at the 50th percentile ($1.36 million compared with $56,000).10
How did this wealth gap come about? During the late 1990s, median household wealth sharply increased as the stock market boomed. Stock prices declined during the early 2000s, but wealth continued to grow with the increase in home values, benefitting the middle class as well as those in more-affluent households. But in 2007, home prices dropped sharply, wiping out trillions of dollars of assets. The middle class, which had more of their wealth tied up in their homes, was hit harder by the drop in housing prices compared with wealthier households. Foreclosures hit record levels, with 3 million homes receiving foreclosure notices in 2010.11 Between 2007 and 2013, home equity fell 61 percent among homeowners in the bottom half of the wealth distribution, compared with only a 20 percent decline among the top 5 percent of households.12 In the meantime, the stock market recovered most of its losses, fueling a rapid increase in assets among the wealthiest households.
---
POPULATION BULLETIN CHAPTERS
Introduction
The Backdrop: Rising Inequality
Where Poverty and Inequality Intersect
The Generational Divide
Persistent Racial/Ethnic Gaps
Women Making Progress, But Gaps Remain
Education: The Great Equalizer?
Looking Ahead
---
References
Includes income from capital gains. Data are from the World Top Incomes Database, accessed at
http://topincomes.g-mond.parisschoolofeconomics.eu, on Aug. 5, 2014.
The Organisation for Economic Co-operation and Development (OECD), "Crisis Squeezes Income and Puts Pressure on Inequality and Poverty," accessed at www.oecd.org/els/soc/OECD2013-Inequality-and-Poverty-8p.pdf, on Oct. 24, 2014.
The OECD Gini coefficients include income from earnings, self-employment, and capital income, public cash transfers, income taxes, as well as deductions for social security contributions. Data are from OECD, Factbook 2014 (Paris: OECD, 2014), accessed at www.oecd-ilibrary.org/economics/oecd-factbook_18147364, on Aug. 20, 2014.
Robert Lerman and Signe-Mary McKernan, "Benefits and Consequences of Holding Assets," in Asset Building and Low-Income Families, ed. Signe-Mary McKernan and Michael Sherraden (Washington, DC: Urban Institute Press, 2008).
Fabian Pfeffer, Sheldon Danziger, and Robert Schoeni, "Wealth Levels, Wealth Inequality, and the Great Recession," Research Summary, Russell Sage Foundation (June 2014), accessed at http://web.stanford.edu/group/scspi/_media/working_papers/pfeffer-danziger-schoeni_wealth-levels.pdf, on Oct. 21, 2014.
Realty Trac, "Record 2.9 Million U.S. Properties Receive Foreclosure Filings in 2010 Despite 30-Month Low in December" (Jan. 31, 2011), accessed at www.realtytrac.com, on Aug. 18, 2014.
Janet L. Yellen, "Perspectives on Inequality and Opportunity From the Survey of Consumer Finances," remarks at the Conference on Economic Opportunity and Inequality, Federal Reserve Bank of Boston, Oct. 17, 2014.