OUR MISSION
PRB promotes and supports evidence-based policies, practices, and decision-making to improve the health and well-being of people throughout the world.
WHAT WE DO TO ADVANCE OUR MISSION
PRB analyzes and disseminates information about populations and their health and well-being so it can be used to inform decisions that improve lives around the world.
We develop communications tools and strategies that drive policy, programming, and funding decisions.
We are a trusted source, employing a variety of approaches to connect data users with data producers.
We seek to magnify our impact by training others to use information in support of decision-making to advance our vision and values for generations to come.
OUR VALUES AND COMMITMENTS
Accuracy and Objectivity. We believe quality information is essential to the creation of sound policies and programs. Our analyses will always be rigorous, objective, nonpartisan, and evidence-based, reflecting our unwavering commitment to accuracy and integrity.
Making a Difference. We care deeply about the world and the well-being of the people in it, and we remain committed to doing work that exposes inequities, challenges conventional thinking, and leads to positive outcomes for women, children, and families globally.
Respect and Inclusivity. We recognize and honor the fundamental rights and dignity of all individuals and are committed to sustaining a work environment that respects and supports diverse backgrounds, traditions, heritages, lifestyles, beliefs, values, and experiences. We believe the differences each person brings to PRB make us stronger and better. We are committed to promoting equity throughout the organization and in our relationships with partners and funders. We want every employee to feel like a valued member of the team and have opportunities for training and career growth that utilize their strengths, talents, and skills.
Learning and Innovation. We are continually evolving and strive to be an adaptive learning organization that is curious, transparent, and open to new ideas and ways of doing things. We embrace innovation and actively seek new subjects of inquiry, work products, and methods for achieving results. We practice what we preach by making evidence-based decisions, measuring the impact of our work, and applying lessons learned.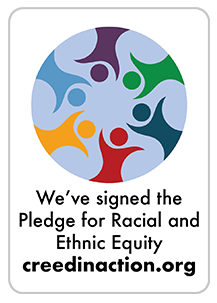 The Pledge for Racial and Ethnic Equity. The Pledge for Racial and Ethnic Equity, as developed by CREED, aims to create practical and quantifiable standards for advancing REE in our own organizations and strengthen REE in the international development and humanitarian assistance sector to build greater organizational effectiveness and a more equitable world for all.