Linda A. Jacobsen
Senior Fellow
Expertise: 2020 Census, American Community Survey, demographic trends in the United States, household and family structure, child well-being
Linda A. Jacobsen is a senior fellow at PRB. She formerly served as vice president of U.S. Programs from 2005 to 2022. She is a demographer with more than 35 years of experience analyzing population trends and their implications for professional, policy, and media audiences. Her research has focused on family and household change, child and family well-being, and population estimates and projections. In partnership with the U.S. Census Bureau, Jacobsen led several projects to increase knowledge and use of the American Community Survey (ACS) and to collect data-user feedback on ACS and decennial census products. She also coauthored 14 handbooks for ACS data users and helped organize and host five ACS Data Users Conferences. Jacobsen also directed PRB's Center for Public Information on Population Research, funded by the Eunice Kennedy Shriver National Institute of Child Health and Human Development.
Jacobsen has been a featured speaker on U.S. demographic trends at Harvard University's Program for Newly Elected Members of Congress, the Knight Center for Specialized Journalism, and many other professional meetings and conferences. She has served on the Census Bureau's Scientific Advisory Committee and National Academies of Sciences, Engineering, and Medicine (NASEM) panels on the ACS and on Transparency and Reproducibility of Federal Statistics. She has also served as president of the Southern Demographic Association; chair of the board of directors of the Council of Professional Associations on Federal Statistics (COPAFS); and chair of the Population Association of America (PAA) Committee on Government and Public Affairs. She currently serves on PAA's Committee on Population Statistics and as a member of the COPAFS board of directors. Jacobsen was elected a Fellow of the American Statistical Association in 2015.
Before joining PRB in 2005, Jacobsen served as a senior executive and chief demographer for two leading marketing information companies; the research director at American Demographics magazine; and a faculty member at both Cornell University and the University of Iowa, where she conducted research and taught graduate studies in sociology and demography. Jacobsen holds master's and doctorate degrees in sociology from the University of Wisconsin-Madison, and a bachelor's degree in sociology from Reed College.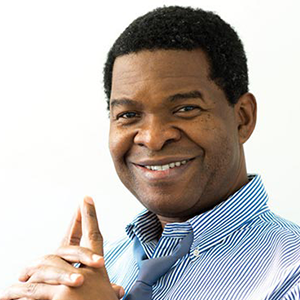 Parfait Eloundou-Enyegue
Senior Fellow
Expertise: Population and development, population dynamics
Professor Parfait Eloundou-Enyegue is a Senior Fellow at PRB. He is on sabbatical from his role as Professor and Chair (2016-20) in the department of Development Sociology at Cornell University (Ithaca, New York). Eloundou-Enyegue has teaching, research, and policy expertise in population and development, with specific emphasis on the effects of population dynamics on changes in economic growth, education, inequality, health, and security. Prior to coming to Cornell, he was affiliated with the RAND Corporation (Los Angeles) and earned a doctorate (Demography and Sociology) from the Pennsylvania State University and an advanced degree in Agricultural Economics and Development Sociology from Cameroon.
Much of his research on population and development addresses issues of inequality, demographic change, schooling, demographic dividends, and youth and their transition into adulthood. He has earned multiple research and professional awards and has taught across multiple countries in Africa, Asia, Europe, and North America. With support from the Hewlett Foundation and the International Union for the Scientific Study of Population (IUSSP), he led a decade-long effort (2007-17) to build a network to advance demographic training in Francophone Africa, including the study of demographic dividends.
Eloundou-Enyegue has consulted with the United Nations, the World Bank, and USAID, and has worked on the Board of Directors of several professional associations and institutions, including PAA, the Guttmacher Institute, and the IUSSP, as well as serving on PRB's Board from 2012-2018. He recently was a member of an independent group of 15 scientists nominated by the UN's Secretary General Panel to draft the first quadrennial report on the Sustainable Development Goals.