The theme of this year's World Population Day, as designated by the United Nations, is "Family Planning: Empowering People, Developing Nations." This theme is also at the center of much of the work done by PRB. We analyze, synthesize, and communicate data and research to support effective family planning policies and highlight the benefits of good policies for women, their families, societies, and the environment. We also strengthen the capacity of researchers, advocates, and other stakeholders to understand and communicate evidence-based information about family planning.
Focus on Youth: A priority population for expanding access to and use of family planning is youth (defined as those ages 15-24), and PRB will focus on youth in our 2017 World Population Data Sheet to be released in mid-August. The Data Sheet will feature indicators and analyses to measure the extent to which youth worldwide have the means and resources to become productive adults—including having sufficient access to modern contraceptives.
The table below of data from the forthcoming Data Sheet highlights the wide variations in the share of youth from country to country.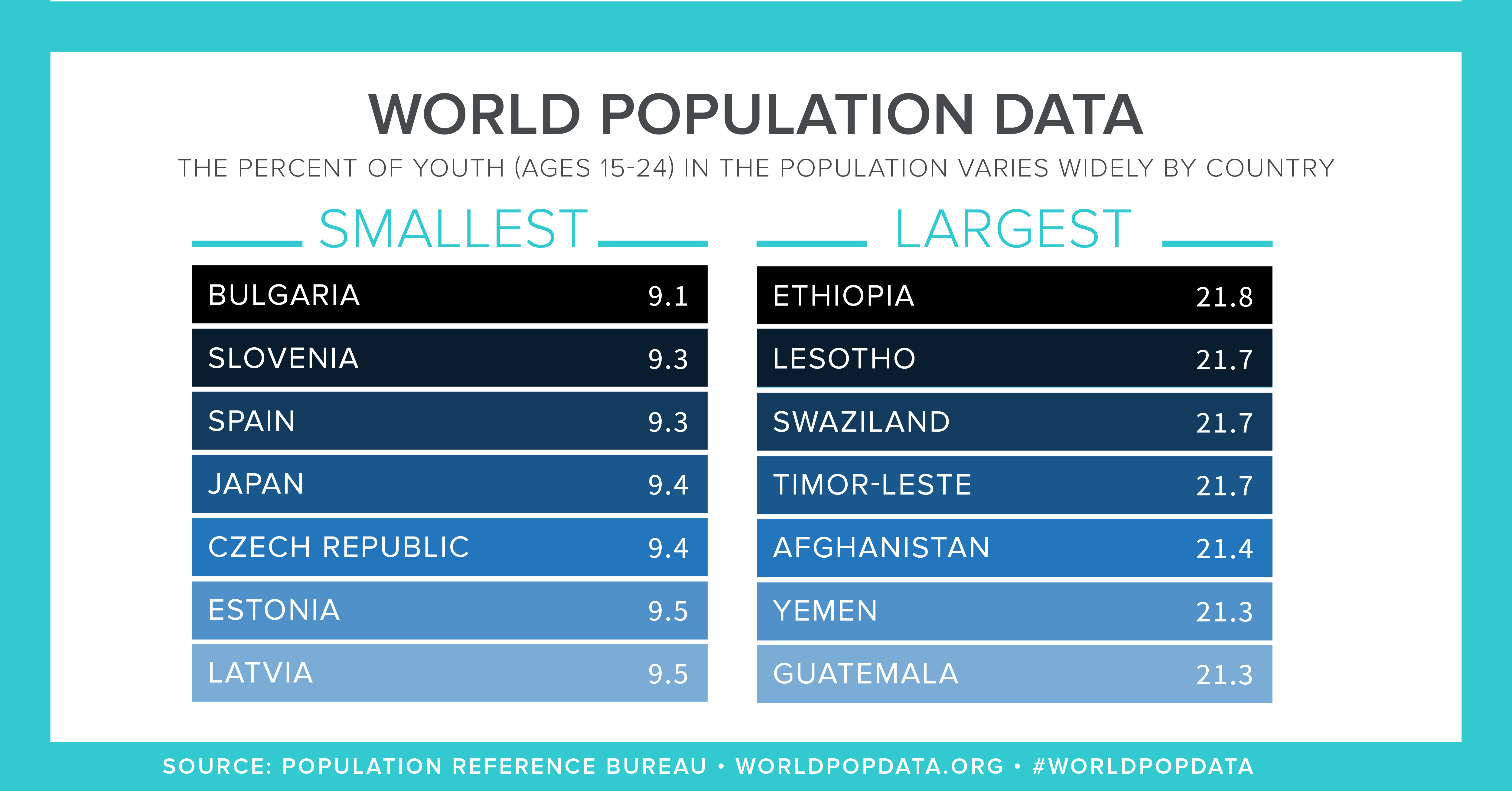 Top of the Pop: Meanwhile, the rankings of the countries with the largest total populations will reshuffle between now and 2050, with India overtaking China in the top spot.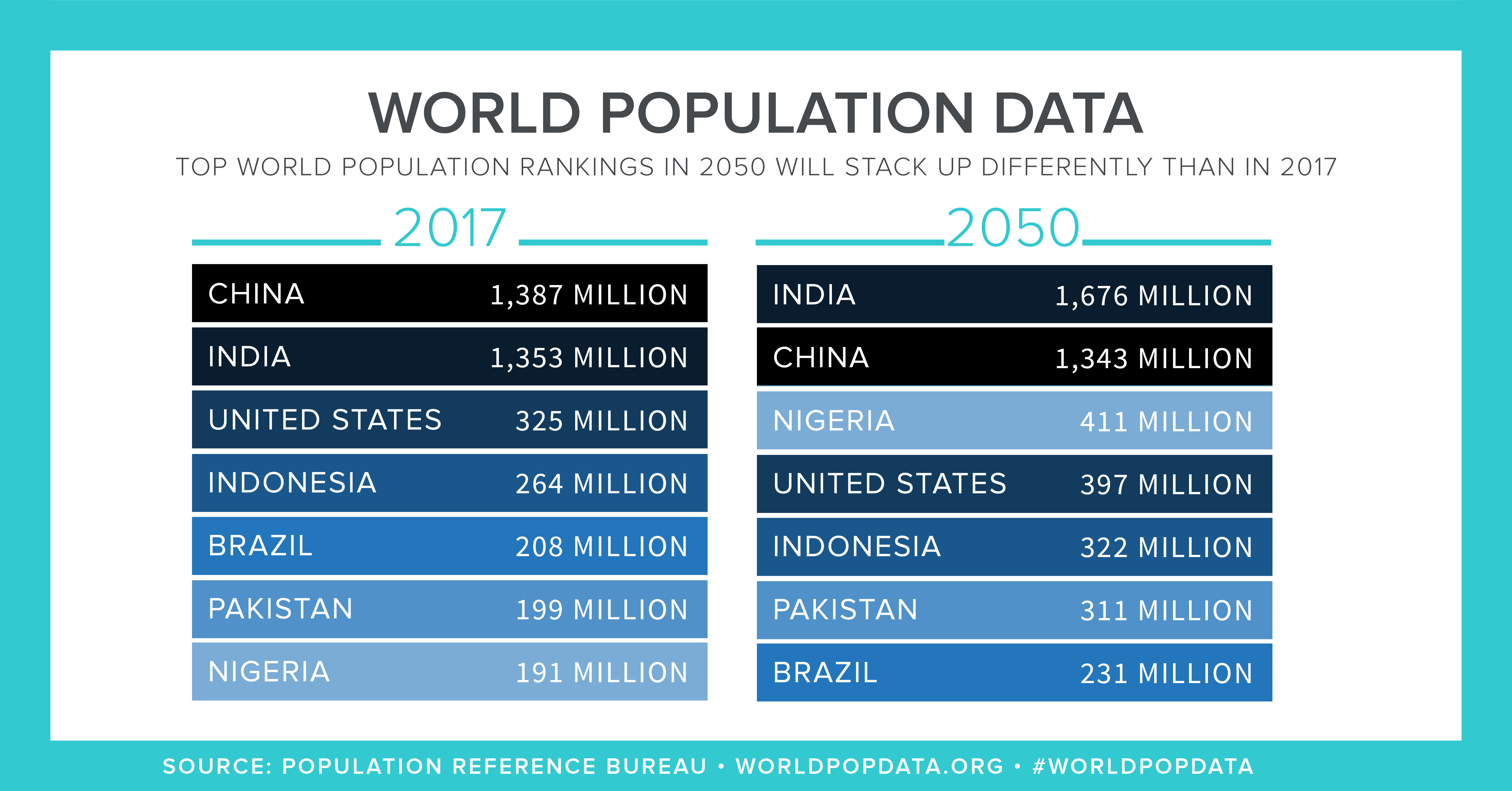 PRB Brings Family Planning Needs Into Focus
World Population Day coincides this year with the 2017 Family Planning Summit in London where governments and other interested parties discuss strategies to achieve the goals they committed to through the Family Planning 2020 (FP2020) initiative. The overall goal of the initiative, launched in 2012, is to add 120 million additional women as family planning users by 2020. PRB participated in the Population and Sustainability Network side event at the Summit, where PRB's Kristen P. Patterson spoke about population dynamics and fertility trends (see related content on PRB's People, Health, Planet program).
A central element of the FP2020 effort is to find ways to address unmet need for family planning—that is, women of reproductive age who want to stop or delay childbearing but are not using contraception. The Guttmacher Institute recently released the latest edition of their Adding It Up report, which estimates the number of women in developing countries with an unmet need for modern contraception at 214 million, down from an estimated 225 million in 2014. The report notes that 84 percent of unintended pregnancies in developing countries are to women with an unmet need.
Below are examples of recent products from PRB that focus on family planning.
Youth Family Planning Scorecard: PRB identified the most effective policies and program interventions to promote uptake of contraception among youth. The "Youth Family Planning Policy Scorecard" compares the favorability of current national policy and program environments. The current version of the scorecard includes data for sixteen countries: Benin, Burkina Faso, Côte d'Ivoire, Democratic Republic of the Congo, Ethiopia, Guinea, Kenya, Mali, Mauritania, Niger, Nigeria, Senegal, Sindh (Pakistan), Tanzania, Togo, and Uganda.
Data Sheet on Kenya Family Planning and Reproductive Health: The PACE Project (Policy, Advocacy, and Communication Enhanced) in collaboration with Kenya's National Council for Population and Development, produced a new data sheet with findings from the 2014 Kenya Demographic and Health Survey For the first time, this survey collected data at the county level, reflecting Kenya's recent government decentralization. The data sheet includes figures that explain national data for married women ages 15 to 49 on the demand for contraception that was satisfied, use of or intention to use contraception, and the most popular sources of contraception.
Men as Contraceptive Users and Family Planning Clients: Overall use of contraceptives has increased globally, but use of modern male methods (condoms and vasectomies) remains low. Achieving the Sustainable Development Goal target of universal access to reproductive health by 2030 will be difficult without men's participation. This infographic—produced through the USAID-funded PACE Project—presents a snapshot of modern male-controlled and cooperative contraceptive method use around the world and highlights data that identify opportunities to engage more adolescent boys and men as contraceptive users and family planning clients.
Empowering Youth Advocates for Family Planning in Francophone West Africa: PRB supported the Young Ambassadors for family planning from the nine member states of the Ouagadougou Partnership (OP). The Young Ambassadors (YAs) are a dynamic, highly motivated group who speak and advocate for family planning on behalf of their peers from a first-hand perspective. PRB produced this animated video to support the YAs; it debuted Dec. 13, 2016 during the opening plenary session of the OP annual meeting in Abidjan, Côte d'Ivoire, that gathered more than 300 officials from the region, major donors, and family planning experts.
Family Planning: A Strong Investment for India: PRB collaborated with Advance Family Planning and Pathfinder International to develop a multimedia video outlining how family planning shapes women's empowerment and community well-being. The video can be used as a tool for corporate social responsibility managers to advocate for corporate boards to allocate funds towards family planning programs in nearby communities. An accompanying fact sheet further details how investing in family planning can spur India's economy, catalyze the workforce, and improve health outcomes of women and children in India.
PACE Policy Communication Toolkit: For those active in family planning advocacy—as well as policy advocacy on other issues—the PACE Project developed this comprehensive toolkit as a resource to help bridge the gap that often lies between research and policy. PRB drew from its more than 30 years of experience training researchers to communicate policy evidence and distilled key lessons into this toolkit. The eight modules include ones focusing on strategic communication, communicating research through social media, using data visualization, working with the media, and much more.
Brief on Youth and Long-Acting Reversible Contraceptives (LARCs): This brief from the PACE Project  discusses the advantages and challenges of providing LARCs—specifically contraceptive implants and intrauterine devices (IUDs)—to youth, and provides case studies from Ethiopia and Madagascar. It also outlines actions for policymakers and donors to make youth access to LARCs a reality.
Report on Family Planning's Potential Impact in Africa: Many countries have made impressive gains in expanding the reach of their family planning programs. Innovative planning and advocacy tools are raising the visibility of family planning, helping policymakers and leaders recognize the multiple cross-sectoral benefits of family planning. This report explores those benefits—revealing how family planning could significantly affect sub-Saharan Africa's development in three key ways: strengthening economic growth and global competitiveness; advancing inclusive and equitable growth; and building resilience for families, communities, and nations.
Infographic: Family Planning and the Path to Resilience: This interactive infographic explains how access to voluntary family planning can give women and couples the chance to choose how many children to have and when to have them. The benefits to health, nutrition, education, and income form a strong, stable foundation for women and their families that make them more resilient when crises occur.
For more information about PRB's work in family planning, email us: popref@prb.org.