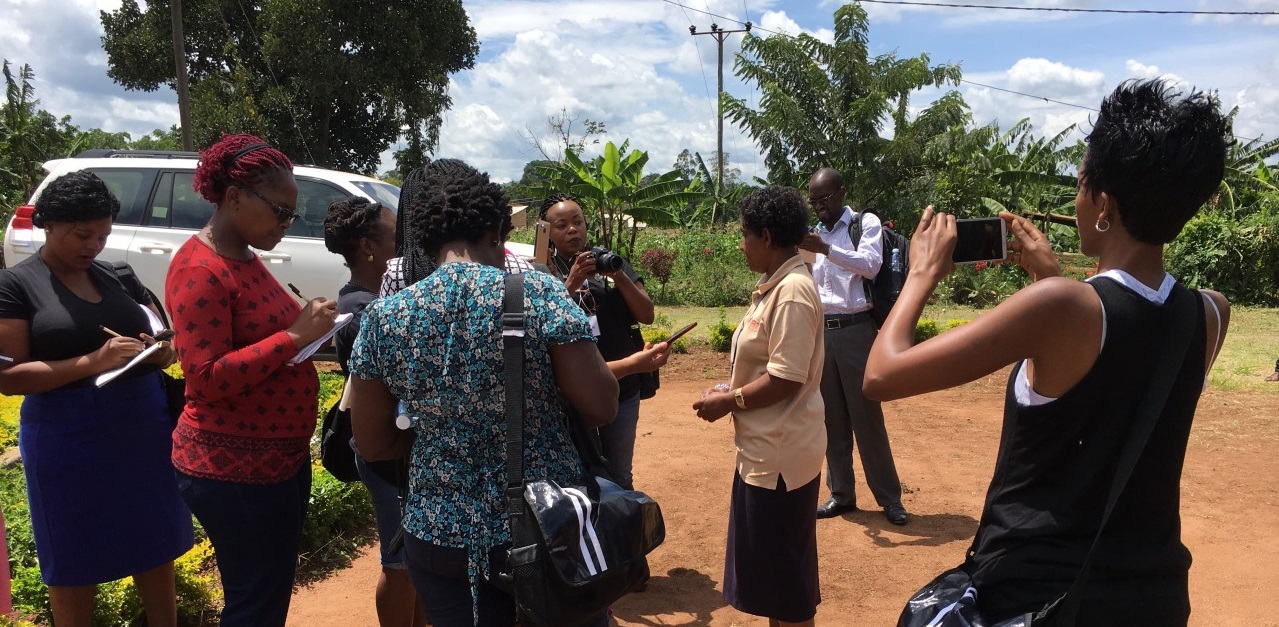 Deborah Mesce
Former Program Director, International Media Training
After I introduced Dr. Eve Nakabembe as the first speaker at PRB's Women's Edition seminar in Kampala, Uganda, the young obstetrician/gynocologist first asked the journalists where they thought the process of reproduction begins. They offered the obvious sites: the womb, Fallopian tubes, ovaries. All good answers, but actually, Dr. Nakabembe told them, reproduction begins in the brain.
With that revelation, she held their attention for two hours, explaining how this complex network of neurons controls the hormones that set the reproductive process in motion. Most important, she explained why women respond so differently to the various hormonal methods of contraception. The "how" and "why" questions underscored her message that each woman is unique, and that a one-size-fits-all approach to family planning doesn't work.
Dr. Nakabembe's presentation was an auspicious beginning to a week filled with excellent speakers and a great field trip for a new group of 13 Women's Edition journalists who are senior-level female reporters and editors from nine sub-Saharan countries—Benin, Ghana, Kenya, Malawi, Nigeria, Rwanda, Tanzania, Uganda, and Zambia. In November, PRB held a seminar for a similar group of journalists from India, Nepal, and Bangladesh, with the intention of bringing the best of the two groups together for another seminar in the fall of 2017.
Besides launching a new Women's Edition group, this seminar also marked the first time since I began organizing Women's Edition seminars in 2000 that we brought the project to beautiful Uganda. We selected the country in part because it is one of the first to use Sayana Press for self-injection of contraceptives. To see how this method was working, we drove the journalists about two-and-a-half hours west of Kampala to rural Mubende to visit two community health centers where PATH, an NGO, was working with health providers to train women to self-inject with Sayana Press, an all-in-one prefilled device that delivers a single dose of DMPA (also known as Depo Provera). Because it is simple and easy to use, it's well suited for community-based distribution and has prompted some countries to allow less-trained health workers to administer it.
The community health workers as well as the women using it told the journalists they liked Sayana Press. This lower-dose formulation of DMPA delivered subcutaneously (just under the skin) seems to have fewer side effects than the DMPA delivered intramuscularly with a syringe, they said. It's also more convenient than trekking many kilometers to the health center to receive a shot, and it gives them more control, they said. Some of the journalists, when they returned home, quickly produced stories on the use of Sayana Press in their countries and asked health officials about whether self-injection would be allowed.
On the days before and after the site visit, the journalists learned about Africa's opportunity to achieve a demographic dividend from Dr. Jotham Musinguzi, director of Uganda's National Population Council, the benefits of birth spacing from Dr. Olive Sentumbwe-Mugisa, family health and population advisor at the World Health Organization, and about Family Planning 2020 and the link between family planning and development from Andrea Sternberg, the health development officer at the USAID mission in Uganda. Other topics covered included gender-based violence, cervical cancer (and Uganda's nationwide program to screen adult women and vaccinate girls against HPV), and the reproductive health needs of adolescents.
Although the Women's Edition had not held a seminar in Uganda previously, the project has about a half-dozen Ugandan alumnae, and the seminar provided an opportunity to introduce the new group to some of their predecessors. All in all, a lineup of outstanding speakers, a great field trip, and a talented, motivated, and energetic group of journalists combined to make this one of our best Women's Edition seminars.