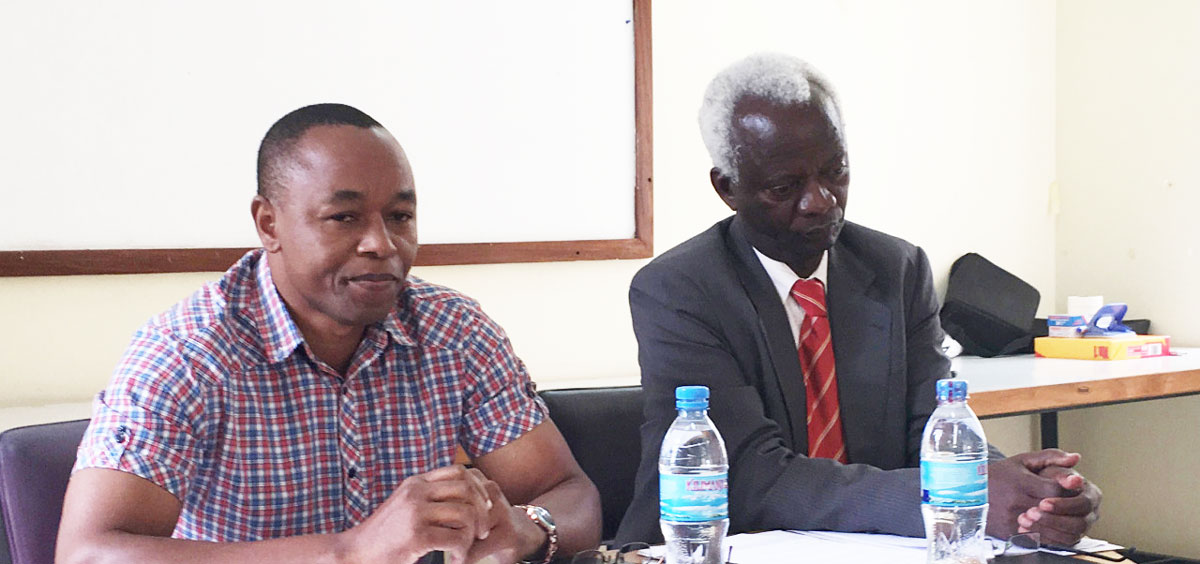 Above:
Dr. Henry A. Mollel, Mzumbe University and Prof. A.D. Kiwara, Muhimbili University of Health and Allied Sciences
PRB recently partnered for the first time with the Tanzania office of AMREF Health Africa through the Advocacy Accelerator* to host our flagship Policy Communication Fellows training program. Held at the AMREF office in downtown Dar es Salaam with 10 Ph.D. students from around the world, the workshop aimed to teach up-and-coming researchers how to effectively communicate research findings to policymakers.
The training curriculum came from our recently published Policy Communication Toolkit, and included skills building on key topics such as: creating a window of opportunity for policy change, crafting compelling messages, improving data visualizations, and writing and presenting for policy audiences.
One of AMREF's key roles was to bring seasoned field experts in policy communication to the workshop. They invited five guest speakers—experienced researchers and advocates—who shared practical lessons to complement the training. The guests, from four institutions — ­­Muhimbili University of Health and Allied Sciences, Mzumbe University, TGNP Mtandao, and Chama cha Uzazi na Malezi Bora Tanzania (UMATI) ­— spoke about their experience using evidence to compel policy action in Tanzania.
The guest speakers shared so many lessons that reinforced the PRB training curriculum, you might have thought we had coached them (but really, we didn't)! This was an exciting outcome as it proved that the training curriculum is up-to-date, relevant, and reflects current field realities.
Here are the most important take-aways from the conversations with the seasoned policy communicators:
Conducting Research That Resonates
Don't conceptualize your research in the classroom. To ensure your research question is policy relevant, read policy reports and most importantly, get out there, make site visits, and talk to people, including policymakers, service delivery providers, program implementers, citizens, and others who can help you get a grasp of the most critical "real world" questions and challenges.
Research something that touches the lives of people. When your research and recommendations are relevant to people's lives, decisionmakers will be moved to take action.
Build trusting relationships. When you or your institution do credible work, actively engage policymakers, and answer questions they want answered, you are more likely to become a trusted source of data and evidence. When they trust your data, they are more likely to act on your suggestions.
Keeping Your Audience in Mind
Know your audience. When crafting your messages, think carefully about who you are trying to reach in terms of their interests, values, commitments, and constraints. When a message resonates with your audience, they will be more likely to act on your recommendations.
Don't be afraid to change course as you learn more about them or if you realize that your initial approach isn't working or "hitting home."
Speak in language that is easy to understand. Often researchers use complex, technical language that policymakers don't understand. It's important to write and speak in language that is clear, simple, and jargon-free, so that the policymakers easily digest the findings and their implications.
"If policymakers weren't involved in cooking it, they will not eat it." It is important to engage policymakers in the research process early and throughout each stage, so that they feel ownership and are invested and interested in using the results.
Amplifying Your Message
"If your voice is low, use the voice of others". Recognize when you may not be the right messenger and choose a person or institution with a strong, powerful voice and who your audience trusts and respects.
A collective voice is powerful. A single voice can easily be silenced so working in a coalition is important to lend power and credibility to your messages and advocacy asks.
Champions can help pave the way. Identifying and engaging champions or "flagbearers"—people who care about the issue and who are willing to act—can go a long way to help set the stage, prime the audiences, and keep up momentum.
The media can be a powerful partner. Sharing findings with the media and working with them to produce relevant television or radio programs can help amplify your voice and get your message to those who need to hear it.
Making Things Happen
Create opportunities for policy learning. Sharing policy briefs and holding fora to inform and engage decisionmakers are great ways to encourage policy learning—getting them to understand the issue and why it's important to act.
Follow up with policymakers. One-off communication is not enough. Once you have reached policymakers, it is essential to follow up with them to ensure action.
We appreciate all of the speakers who shared their insights. Their messages not only reinforced the principles of the training curriculum, but offered inspiration for tackling complex policy challenges through evidence-based communication.
---
* The Advocacy Accelerator is an emerging platform for online and in-person engagement that aims to link advocates with the information, expertise, and connections they need to improve health and development.