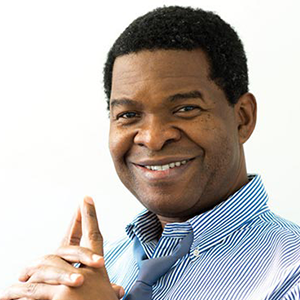 Expertise: Population and development, population dynamics
Professor Parfait Eloundou-Enyegue is a Senior Fellow at PRB. He is on sabbatical from his role as Professor and Chair (2016-20) in the department of Development Sociology at Cornell University (Ithaca, New York). Eloundou-Enyegue has teaching, research, and policy expertise in population and development, with specific emphasis on the effects of population dynamics on changes in economic growth, education, inequality, health, and security. Prior to coming to Cornell, he was affiliated with the RAND Corporation (Los Angeles) and earned a doctorate (Demography and Sociology) from the Pennsylvania State University and an advanced degree in Agricultural Economics and Development Sociology from Cameroon.
Much of his research on population and development addresses issues of inequality, demographic change, schooling, demographic dividends, and youth and their transition into adulthood. He has earned multiple research and professional awards and has taught across multiple countries in Africa, Asia, Europe, and North America. With support from the Hewlett Foundation and the International Union for the Scientific Study of Population (IUSSP), he led a decade-long effort (2007-17) to build a network to advance demographic training in Francophone Africa, including the study of demographic dividends.
Eloundou-Enyegue has consulted with the United Nations, the World Bank, and USAID, and has worked on the Board of Directors of several professional associations and institutions, including PAA, the Guttmacher Institute, and the IUSSP, as well as serving on PRB's Board from 2012-2018. He recently was a member of an independent group of 15 scientists nominated by the UN's Secretary General Panel to draft the first quadrennial report on the Sustainable Development Goals.