2011 Census Shows How 1.3 Billion People in India Live
An attention-getting headline in the major Indian daily newspaper, The Hindu recently observed: "Half of India's homes have mobile phones, but not toilets."
Such contradictions portray a country with some of the trappings of modernity combined with living conditions in India's 247 million households that look more medieval. The Registrar General of India has released statistics on the level of living in India from the 2011 Census and the results are quite revealing. Even more revealing are the changes since the 2001 Census.
Regarding the first two issues in the headline, the percentage of houses with an indoor toilet is still less than half but there was an improvement (see table below). But, if one sees the glass as half empty, should the percentage increase in toilets remain steady, the 2071 Census would be the first to show this figure to reach 100 percent! Conditions in rural areas are much worse than urban areas given that 7 out of 10 households must resort to open places like fields, bush, river, stream, railway tracks, and so forth.
And how about those mobile phones?  More than half of households do have at least one, nearly half in rural areas and 76 percent in urban areas. Many households, of course, possess more than one mobile. Perhaps that is not so surprising since a very basic mobile phone costs as little as US$40 and can be relatively quickly purchased; not so for a sewer hookup. That US$40 cost is, nonetheless, quite substantial for many households. Reports indicate that there are now over 700 million mobile phones in India.
---
Percentage of Households With Amenities in India, 2001 and 2011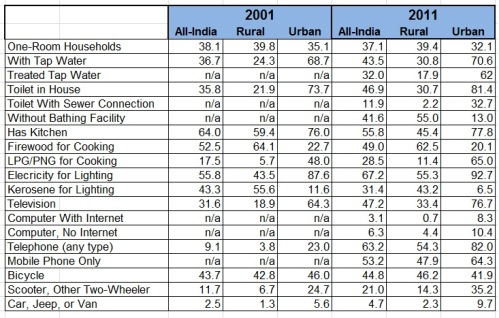 Sources: 2001 and 2011 India Censuses.
---
While about 92 million (37 percent of all households) and 78 million (32 percent) households live in one- and two-room houses, respectively, there are also about 10 million households that do not have any exclusive room for living as the room in which they live is also used as a shop or office. Using only the number of rooms as an indicator of "middle class," how many households might be considered to be in that group?  If we set that at four rooms, then 13 percent of households would be in that category. The construction of many of the houses in which those households live may be a bit startling. The walls of one-third of houses consist of grass, thatch, bamboo, plastic sheet, mud, or wood. Most of the remaining two-thirds have walls of brick, stone, or concrete with brick accounting for nearly half of all houses. Mud is used for the floor in 47 percent of houses; concrete accounts for 31 percent.
While India is widely touted as an emerging economic power, nearly half of the country still cooks with firewood, two-thirds among the vast rural population and those proportions have barely changed during the last decade. It is quite heartening to note that use of Liquefied Petroleum Gas/Piped Natural Gas (LPG/PNG) comes next and the percentage of households using LPG/PNG has increased from 17.5 percent in 2001 to 28.5 percent in 2011.
There has been a tenuous move into the information age with almost one-fifth of urban households having a computer but the majority of those lack an Internet connection, something seen as necessary as clean water in developed countries. But one-third of households lack electricity even today and the reliability of connections is spotty and frequent power cuts can plague those who are connected. Television ownership stands out, as it often does despite high levels of poverty. The increase from 2001 to 2011 has been quite remarkable. The Indian passion for cricket and for the many game shows adds a strong motivation to purchase at TV at all costs. Access to cable in the majority rural population is limited, of course.
The figures on vehicle ownership contain a subtle reminder that economic progress has benefited an elite few. The large majority of people in India still depend upon bicycles and two-wheelers to get around. In developed countries, that would be unthinkable. But in urban areas, car ownership is approaching 10 percent. Gone are the days when cars such as the diminutive Maruti 800, often called the "Volkswagen of India," predominate. Today, traffic in comparatively wealthy Delhi has become more a matter of larger, prestigious cars such as the Honda City, minivans, and yes, SUVs. But, elsewhere, the automobile revolution remains in its infancy. Clearly, some are benefiting and quite a few households in metropolitan areas have more than one car but they are a distinct minority. For most Indians, a car is but a distant dream and will be for a long time. If we use car ownership as an indicator of middle-class status, less than 5 percent of households enjoy that status.
India is touted as a consumer market of 1.3 billion but the census contains a statistic that marketers had best not ignore. India is one of two "billion-plus" markets globally but has only 247 million households. Compare that to the U.S. with a population one-fourth that of India but with 120 million households, nearly half that of India. Marketers selling refrigerators and vehicles should keep that in mind.
While there has been progress, many government efforts have failed due to politics, corruption, lack of funding or all three. Profits of large corporations often have little benefit to workers who are more concerned about job security than levels of pay. One study indicated that labor costs in India in the "organized" manufacturing sector was US$0.91 per hour in 2005, actually quite a decent rate, but only 3 percent that of the U.S. worker. But the organized sector is a just tiny fraction of the entire labor force. When Delhi was preparing for the 2010 Commonwealth Games, a newspaper article pointed out that workers were not even being paid minimum wage nor were they aware that there was one. And those workers were working for the Delhi government!
Still, the Census does have a subtle suggestion that issues of living standards are being taken more seriously if only because the government has placed more detailed questions in the 2011 Census, painting a more realistic portrait of how Indians live. That is just a first step, albeit an important one.
---