Are U.S. Girls Becoming More Violent?
(July 2006) Adolescent U.S. girls are being arrested in record numbers. And every year brings new media attention to mean or aggressive girls' behavior—with sensational newspaper headlines and book titles such as See Jane Hit: Why Girls Are Growing More Violent and What We Can Do About It and Sugar and Spice and No Longer Nice: How We Can Stop Girls' Violence.1 Could there be an epidemic of violence in the United States among girls—who have traditionally been considered more mature and less trouble to raise than boys?
---
Figure 1
Female-Committed Assaults in the United States, 1980-2003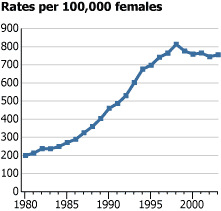 Source: Analysis by J. Schwartz of FBI Uniform Crime Reports (1981-2005).
---
The answer isn't clear-cut, although national arrest statistics for simple and aggravated assaults by girls have been on the rise for more than a decade. The FBI's Uniform Crime Reports note the female percentage of total juvenile assault arrests jumped from 21 percent to 32 percent between 1990 and 2003.2 And the U.S. female juvenile assault rate rose from about 200 for every 100,000 girls to 750 between 1980 and 2003 (see Figure 1).
Some analysts trace the surge in the number of girls arrested to increased pressures—from the breakdowns of family, church, community, and school—that have increased their propensity for violence.3 Other analysts reason that girls are more likely to act out or lash out due to changing gender-role expectations: Greater female freedom and assertiveness have masculinized female behavior and are expressed in an imitation of male machismo competitiveness.4 And violence by girls is also pervasive in much of today's entertainment. (Even in a recent Harry Potter movie, a girl character—Hermione Granger—hits a boy, only to say afterwards: "Boy, that felt good."5)
But research by Darrel Steffensmeier, a professor of sociology and crime, law, and justice at Penn State University, casts doubt on the contention that there has been an increase in violence among girls. In a recent study published in the journal Criminology, Steffensmeier and co-authors Jennifer Schwartz, Hua Zhong, and Jeff Ackerman argue that higher female arrest rates are a byproduct of policy changes (such as more aggressive policing of low-level crimes and reclassifications of simple assaults as aggravated) that broaden the definition of what constitutes violent behavior, not true changes in behavior or the aggressive tendencies of girls.6
In addition, Steffensmeier argues that recent decades have seen a shift to policing formerly private disputes at home or school (both venues in which female violence is more widespread than in public) as well as heightened official attention to adolescent females and "girlfighting."
But despite the social reinforcement girls may be getting from the entertainment world regarding aggression, Steffensmeier says he finds it hard to believe that behaviors could change so perceptibly over just a decade or two. "Social change is seldom that dramatic or abrupt," he says.
Elastic Definitions of Violence
First, Steffensmeier argues that law enforcement officials at the local level are using broader definitions of violence to include more minor incidents—such as a fight between a parent and a child, which Steffensmeier contends girls are more likely to commit than boys. And these broader definitions have tended to lead to disproportionately more arrests of less serious offenders.
Disorderly conduct, harassment, and resisting arrest are now categorized as simple assaults. What were simple assaults (assaults that do not involve a weapon and do not result in serious injury to the victim) are now being counted as aggravated assault, a category that is usually accompanied by the use of a weapon or means that can cause death or great bodily harm.7
In some jurisdictions, Steffensmeier adds, behaviors are also increasingly being relabeled or "boosted up" by the criminal justice system. Behaviors traditionally categorized as "status offenses," such as sexual misbehavior, running away from home, truancy, incorrigibility, or disorderly conduct, are now being labeled as felony offenses and considered as grounds for detention or placement in a facility or program.8
Early Police Intervention Is Also Leading to More Arrests
A large emphasis on early intervention and proactive prevention is also changing policing procedures and putting more girls at risk of arrest, says Steffensmeier. He contends that police and other authorities are more proactive in defining and reacting to certain behaviors that in the past might have been ignored or treated informally—such as girl-on-girl fighting that includes scratching or biting—as bad, aggressive, or violent.
And researchers who have delved into California case files have found that girls are getting arrested because school officials are referring them for minor acts of physical aggression or threats.9 Steffensmeier cites how girls in Southern California in the late 1990s reported that having a tattoo or wearing baggy clothes that could be seen as markers of gang affiliation were enough to bring them into contact with the police.10 He adds that, in the wake of the Columbine school shootings in 1999, fear of litigation is making school officials quicker to alert the police.
"When you police less serious behavior, you'll find more girls do it," adds Meda Chesney-Lind, a criminologist at the University of Hawaii-Manoa. "As you implement school policies like zero tolerance [of any rules infraction], you get a lot of kids referred to police for very minor kinds of behavior."
In addition, Steffensmeier and others argue that many private or domestic matters are now being thrust into the public domain and labeled as violent behavior by girls.11 Case files of girls charged with assault in four California counties in the late 1990s revealed that most of these charges were often the result of nonserious mutual fights or struggles with parents.
In many cases, aggression was initiated by an adult. In one case, a girl was arrested for hitting her father in self-defense as he lunged at her while she was calling the police about a domestic dispute. In another case, a girl was arrested for throwing cookies at her mother during an argument.12 "Incivilities of any kind are now taken more seriously," says Steffensmeier.
Which Data Tell the Real Story?
Indeed, data on youth violence outside arrest records do not support the behavioral change theory. These sources—based on national samples of the general U.S. youth population—show little overall change in girls' violence rates over the past one to two decades.
Between 1992 and 2003, for instance, self-reported violent behavior from Monitoring the Future, an annual youth survey that asks about social attitudes and behaviors, shows that the percentage of female juveniles who reported they had assaulted someone stayed in a limited range varying from 15 percent to 18 percent of all assaults by juveniles (see Figure 2).
---
Figure 2
Juvenile Female Self-Reported Assault Rates, 1992-2003
Source: Analysis by J. Schwartz of Monitoring the Future Survey (1993-2004).
---
Similarly, girls today seem less violent, based on findings of self-reported physical fighting among 9th through 12th graders from the National Youth Risk Behavior Survey between 1991 and 2003. Prevalence of fighting declined from 35 percent to 25 percent for females.13
But other researchers think that levels of girls' violence are actually higher than arrest records or survey data on youth violence suggest. Cindy Ness, program director at the John Jay Center on Terrorism and Public Safety, says that most interpersonal violence goes on below the radar screen of the criminal justice system.
"Most kids that are fighting on the streets aren't getting arrested," she says. "Arrest statistics have been padded by police practices, but to begin with, they don't tell the whole story anyway." She adds that more girls in her study would say they had been in a fight in the past year than the Steffensmeier article would suggest.
In a 2003 ethnographic study of girls in inner-city Philadelphia, African American mothers in inner-city Philadelphia told Ness that there's more violence in the city than 20 years ago as well as more fighting among girls. In addition, these women told Ness that the quality of the fighting has changed, with girls more likely to pull a weapon. When asked, the mothers were hard-pressed to name a neighborhood girl who didn't fight. And in rough neighborhoods, the willingness to fight was a form of self protection.14
Getting at the Roots of the Problem
There are no easy answers to whether girls are getting more violent. But researchers seem to agree more research needs to be conducted so the discussion on girls' violence can be widened.
Lyn Mikel Brown, professor of education and human development at Colby College, says far more needs to be done to learn under what circumstances violence takes place and the social context within which it arises. "If it's really about helping kids, then we have to understand their circumstances and what drives them and motivates them, where they're coming from—so we can really engage them where they're at," says Brown. "Otherwise, we're talking about numbers."
Steffensmeier agrees and calls for more localized studies of girls and boys' arrest patterns, in which researchers actually pull the files and look at what kinds of behavior they're being arrested for in the violent crime category to see whether the nature of those crimes has changed over time. "What one needs to get at is the gestalt of girls' violence," he says. "How does it get started?"
---
Sandra Yin is associate editor at the Population Reference Bureau.
---
References
James Garbarino, See Jane Hit: Why Girls Are Growing More Violent and What We Can Do About It (New York: The Penguin Press, 2006); and Deborah Prothow-Sith and Howard R. Spivak, Sugar and Spice and No Longer Nice: How We Can Stop Girls' Violence (Hoboken, N.J.: Josey-Bass, 2005).
Federal Bureau of Investigation (FBI), Uniform Crime Reporting Program, accessed online at www.fbi.gov, on June 26, 2006.
Darrell Steffensmeier et al., "An Assessment of Recent Trends in Girls' Violence Using Diverse Longitudinal Sources: Is the Gender Gap Closing?" Criminology 43, no. 2 (2005): 355-405.
Steffensmeier et al., "An Assessment of Recent Trends."
"Hermione Granger is Turning Girls Violent!" Hindustan Times (May 27, 2006), accessed online at nexis.com, on July 5, 2006.
Steffensmeier et al., "An Assessment of Recent Trends."
Steffensmeier et al., "An Assessment of Recent Trends."
Steffensmeier et al., "An Assessment of Recent Trends."
Leslie Acoca, "Characteristics of Girls at Risk of Entering or Involved With the Juvenile Justice System," Juvenile Justice 6, no. 1 (1999), accessed online at www.ncjrs.gov, on July 4, 2006
Acoca, "Characteristics of Girls at Risk of Entering or Involved with the Juvenile Justice System."
Steffensmeier et al., "An Assessment of Recent Trends."
Acoca, "Characteristics of Girls at Risk."
Steffensmeier et al., "An Assessment of Recent Trends."
Cindy D. Ness, "Why Girls Fight: Female Youth Violence in the Inner City," The Annals of the American Academy of Political and Social Science 595 (2004): 32-48.