Data Sheet on Women's Reproductive Health in Egypt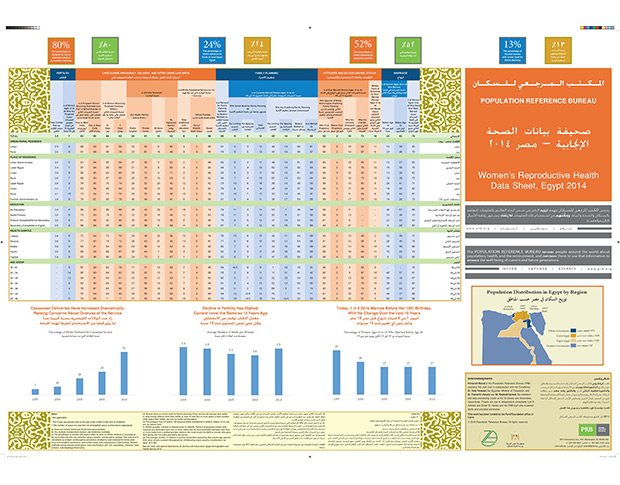 In the Women's Reproductive Health Data Sheet, Egypt 2014, the Population Reference Bureau (PRB) and El-Zanaty Associates compiled the latest data available on women's reproductive health in Egypt, broken down by location, education level, and other key categories. The 29 indicators provide measures for the following topics:
Fertility.
Care during pregnancy, delivery, and after giving birth.
Family planning.
Attitudes and socioeconomic status.
Marriage.
Selected graphics on the data sheet show that the percentage of births delivered by Cesarean section reached 52 percent in 2014, up from 28 percent in 2008 and 7 percent in 1995. Meanwhile, the fertility rate, measured by the average number of births per woman, rose to 3.5 in 2014 from 3 in 2008, reversing a decline seen between 2000 and 2008.
The data sheet shows wide differences in reproductive health measures by income level. For example, the total fertility rate ranges from 3.6 for the lowest income quintile to 2.8 percent for the highest quintile, while the percentage of births assisted at delivery by a doctor was 78 percent for the lowest quintile, as compared to 98 percent for the highest quintile.
The percentage of women in Egypt ages 20 to 24 who married before age 18 has held steady over the past decade at 17 percent, according to the data sheet. This topic is addressed in more detail in a recent PRB policy brief, Adolescent Girls in Egypt. As PRB program director for the Middle East and North Africa Farzaneh Roudi explains in the report, early marriage for girls usually results in early childbearing, because newlyweds are generally expected to have a child soon after marriage, regardless of her age.
---
Farzaneh (Nazy) Roudi has been with PRB since 1987, and is the program director for the Middle East and North Africa (MENA).