Early marriage (before age 18) undermines the rights and livelihood opportunities of adolescent girls by leaving them vulnerable to the health risks of early pregnancy and childbearing, and prematurely ending their schooling. Rates of early marriage have declined broadly in the past 20 years, particularly among girls who are under age 15. Part of the overall decline reflects improvements in girls' access to education: As girls educational attainment improves, the proportion marrying early tends to fall.
Better employment opportunities for women and girls also can help delay marriages. In Bangladesh, expanded employment in the garment industry is linked to notably lower rates of marriage among rural migrants under age 15. The percentage of Bangladeshi girls married by age 18 has declined much more slowly as the youngest potential brides tend to postpone marriage by only a few years. The majority of Bangladeshi girls continue to marry before age 18.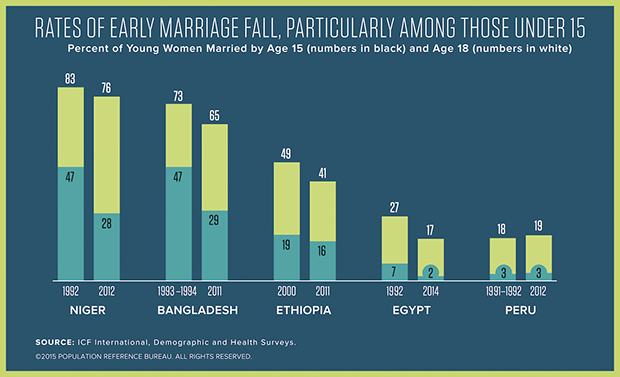 For more data and trends, visit World Population Data 2015: Focus on Women's Empowerment.