In Arab Countries, Mobile Internet and Social Media Are Dominant, but Disparities in Access Remain
(May 2012) Arab countries continue to rapidly gain access to mobile cellular and to a smaller extent, mobile and wireless Internet, but lag behind in access to fixed broadband Internet access at home, according to the report ICT Adoption and Prospects in the Arab Region 2012.1 Published by the International Telecommunications Union (ITU), the report examines information and communications technologies (ICT) trends throughout the region and identifies ICT areas that need policy attention.
More people in Arab countries are online largely because of the increasing spread of mobile 3G networks that give people access to the Internet on their mobile phones, and the increasing number of computers accessing the Internet via wireless networks. As of the end of 2011, 30 percent of the population in the region was using the Internet. This is comparable to the Asia/Pacific region (27 percent) and higher than sub-Saharan Africa at 13 percent. Europe has the highest level of internet use (74 percent) followed by the Americas (56 percent).
For Internet Access, Mobile Rules
The largest improvement in Internet and communications technology has been in the mobile sector. Mobile communication access has expanded rapidly in the region in recent years, catching up to the levels of developed countries. The number of mobile cellular subscriptions has almost tripled from 2006 to the end of 2011, from 126 million to 350 million. As of the end of 2011, mobile cellular penetration in Arab countries is at 97 per 100 people, 19 points higher than the world average. In comparison, Asia/Pacific is at 74, sub-Saharan Africa is at 53, while the Commonwealth of Independent States leads at 143, followed by Europe at 120 and the Americas at 103.
People in the Middle East and North Africa overwhelmingly access the Internet via mobile phones. But the almost-ubiquitous access to cellular service on mobile phones does not automatically entail access to the Internet via mobile devices. Although it has grown faster than the developing-country average, mobile broadband, at 13 per 100 people, is still below the world average of 17 per 100 people. A lack of competition and infrastructure continue to hamper more rapid growth of mobile Internet access. And connectivity is an issue. "There are issues of speed and network congestion that might need to be addressed. Some mobile broadband services/subscriptions have data volume restrictions or lower the speed after a certain amount of data downloaded," says Susan Teltscher, head of the ICT Data and Statistics Division at ITU.
While 26 percent of households in Arab countries have Internet access, most of that is through wireless networks. High-speed fixed broadband access remains very limited, partly due to the historically low levels of fixed phone lines throughout the region. The level of fixed phone access peaked at only 10 percent in 2008. Only sub-Saharan Africa, at 1.4 percent, has a lower rate of access. The lack of an existing fixed-phone-line infrastructure makes it more difficult to expand fixed broadband access. According to Teltscher, "The limited fixed line network has impacted in particular the broadband uptake via Digital Subscriber Lines (DSL), globally the most widespread fixed-broadband technology."
Disparities Across Region and Within Countries
The Arab region, as defined by the ITU, includes a diverse set of countries, with varying income levels. GNI per capita ranges from $1,180 in Comoros to $33,690 in Bahrain.2 The Gulf Cooperation Council (GGC) countries, well known for their wealth and oil exports, are the region's richest countries, with GNI per capita of at least $15,000. Not surprisingly, there is a strong link between income level and access to Internet communication and technology. But there are outliers. Egypt, Morocco, and Tunisia, all with a GNI per capita of well under $10,000, have high levels of ICT use.
The figure shows the disparity between GCC and non-GCC countries. Libya is an exception among non-GCC countries, with mobile broadband penetration of almost 43 per 100 people, a rate more comparable with GCC countries due to heavy government support to compensate for a lack of fixed broadband and the fact that Libya is an oil-rich country with GNI per capita of $16,400.
---
Fixed and Mobile Broadband Internet Subscription Rate, Selected Arab Countries, 2010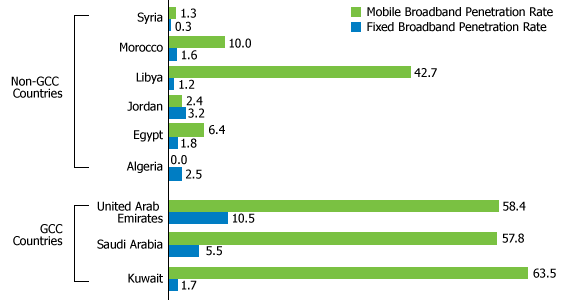 (per 100 people)
Source: International Telecommunications Union, ICT Adoption and Prospects in the Arab Region 2012 (Geneva: ITU, 2012).
---
Foreign Social Media Sites Widely Popular
Two trends stand out when examining the most popular sites in the region: American sites are consistently the most popular and social media makes up a majority of Internet use. Google, Facebook, and YouTube are consistently among the five most-visited sites in every country in the region with available data.
However, the amount of local Arabic content is increasing. Online portals and smartphone mobile apps are the largest area of growth for local content. Arabic Internet domain names are increasingly available. In May 2010, Egypt became the first Arab country to introduce Arabic domain names.
Internet users in MENA are not passive readers of news and information. Blogging services, online forums, and file-sharing services—all participatory and interactive—dominate the lists of most-popular sites. To take just a few examples of countries with recent political unrest, the 10 most-visited sites in Bahrain include Facebook, YouTube, Twitter, and Blogspot. In Egypt, Facebook, YouTube, Blogspot, and Fatakat (an online forum) are among the most popular. And in Yemen, Facebook, YouTube, live.com (an email portal), and Blogspot are some of the most popular sites.
Policy Recommendations
There is increasing focus among policymakers and international organizations on improving access to high-speed broadband. The Connect Arab Summit 2012 dealt with this issue extensively. Why is it important to improve access to broadband? The World Bank estimates that a 10 percent increase in broadband penetration in a country can raise GDP by around 1.4 percent. In addition, expanding broadband creates jobs. Digital services and outsourcing for large companies can create jobs, especially among youth and women, as broadband access increases.3
In addition, the ITU recommends lowering prices for digital services, improving ICT literacy levels, and making more content locally based to increase access and use in the region. Other policy recommendations include enforcing copyright and antipiracy laws.
As for the future, Teltscher says, "Internet access and use in the region will continue to grow over the next few years. It is likely that much of the growth will occur through wireless networks."
---
Eric Zuehlke is web communications manager at the Population Reference Bureau.
---
References
The 21 ITU Member States of the Arab region are: Algeria, Bahrain, Comoros, Djibouti, Egypt, Iraq, Jordan, Kuwait, Lebanon, Libya, Mauritania, Morocco, Oman, Qatar, Saudi Arabia, Somalia, Sudan, Syria, Tunisia, United Arab Emirates, and Yemen.
Carl Haub and Toshiko Kaneda,2011 World Population Data Sheet (Washington, DC: Population Reference Bureau, 2011).
International Telecommunications Union, "ITU Interviews @ CAS12: Carlo Rossotto, MENA Regional Coordinator, ICT, World Bank," accessed on April 10, 2012.