In Morocco, More Modern Contraceptive Use Plays Key Role in Decreasing Maternal Deaths
The "Gold Moment on Family Planning" is set for World Population Day, July 11, 2012, in London. The event seeks international attention, policy, and funding on meeting the global unmet need for family planning by 2020.
---
(June 2012) For women in Morocco today, becoming a mother is safer than ever. The nation has seen a sharp decline in the numbers of women who die during pregnancy or childbirth. At the same time, the country stands out among Arab countries for a rapid increase in modern contraceptive use by both rural and urban women and for relatively low levels of "unmet need" for family planning—defined as the share of women who wish to delay or avoid pregnancy but are not using contraception.
Morocco's drop in maternal deaths and high level of contraceptive use are closely related, according to Farzaneh Roudi-Fahimi, Middle East and North Africa program director at the Population Reference Bureau. "When a woman wants a smaller family and uses contraception effectively, she can have fewer pregnancies—reducing her lifetime risk of disability and death from complications during pregnancy and childbirth," she said. Morocco's maternal mortality rate dropped from 332 deaths per 100,000 live births in 1990 to 112 per 100,000 births in 2009, reflecting a remarkable 60 percent decline.1 Morocco's rate is now closer to the average for Central America (90 per 100,000) than the average for the North African region (270 per 100,000) or Africa as a whole (590 per 100,000).2
Demand for family planning in Morocco increased sharply over the past decade, Roudi-Fahimi said. The share of married women ages 15 to 49 who want to postpone or avoid pregnancy was about 60 percent in 2004 and increased to 80 percent by 2011, when 67 percent were using contraception and 11 percent were not, reflecting "unmet need" for family planning.3
Many observers say that the nation is poised to join the few low- and middle-income countries worldwide that are on track to achieve the United Nations Millennium Development Goal 5—reducing maternal mortality by 75 percent between 1990 and 2015. To reach the MDG milestone, Morocco has made safe motherhood a priority and invested in the three proven strategies to reduce maternal mortality—increased availability of voluntary family planning services, expanded and improved maternal health care, and ensured access to obstetric care (including Caesarian birth) in part by eliminating fees.
Commitment to Family Planning
The Moroccan government has been able to meet a greater share of the rising need for contraception by focusing on household-based delivery of family planning services. The government's effort has made modern contraceptives available to low-income and rural women who would otherwise not have access to private-sector services.
Results from a 2011 Pan Arab Project for Family Health (PAPFAM) survey show that 57 percent of Moroccan married women of reproductive age were using a modern contraceptive method in 2011, an increase from 36 percent in 1992.4 The survey also found that about 10 percent of all married Moroccan women of reproductive age were using traditional family planning methods, compared with about 6 percent in 1992.
Fifty-five percent of married women in rural areas were using a modern family planning method in 2011, up from 32 percent in 1992. Such an increase in modern contraceptive use is particularly significant, reflecting improvements in other aspects of women's lives such as rising school enrollments for girls and increasing literacy levels among younger women, Roudi said. While 44 percent of all Moroccan women ages 15 and older are literate, 72 percent of young women (ages 15 to 24) are literate, according to 2009 United Nations data.5
Widespread family planning use has contributed to Morocco's rapid shift from large to small families. The 2011 PAPFAM survey found that Moroccan women were having 2.6 children on average in 2011—three fewer births than the average of 5.6 per woman recorded in 1980. The change has been particularly dramatic among women living in rural areas, whose fertility declined from 6.6 births in 1980 to 3.2 births on average in 2011.
Addressing the Wealth Gap
The recent survey results also underscore the progress Morocco has made in narrowing the gap in access to family planning services between the poor and rich segments of society. The average difference in family size between the country's poorest and richest quintiles of the population (five groups of equal population size) was narrowed by three children between 1992 and 2011 (see table). Over the same period, modern contraceptive use among married women in the poorest quintile rose from 18 percent to 55 percent—not far behind that of women in the richest quintile. Unmet need for family planning among the poorest women was cut by more than half during that time.
---
Fertility and Reproductive Health Indicators for Morocco, by Selected Wealth Quintile,* 1992 and 2011
Indicator
Selected Wealth Quintiles
Poorest
Middle
Richest
1992
2011
1992
2011
1992
2011
Average Number of Births per Woman Ages 15 to 49
6.7
3.4
4.2
2.7
2.3
2.4
Percent of Married Women (Ages 15 to 49) Using Modern Contraceptives
18
55
38
59
48
57
Percent of Married Women (Ages 15 to 49) With Unmet Need for Family Planning**
33
14
16
10
10
10
Percent of New Mothers Who Received Any Prenatal Care by Trained Personnel
8
50
31
85
74
97
Percent of Births Delivered at Home
95
61
73
14
29
6
Percent of Deliveries Assisted by Trained Personnel
5
38
28
87
78
96
Notes: * Wealth quintiles (five groups of equal population size) are based on an index of surveyed household assets. ** Unmet need for family planning includes women who say they want to delay or avoid pregnancy but are not using a contraceptive method.
Sources: M. Azelmat, M. Ayad, and E.A. Housni, Demographic and Health Survey: Morocco 1992 Final Report (1993); and Pan Arab Project for Family Health (PAPFAM), 2011, special tabulations.
---
The 2011 PAPFAM survey results also reflect dramatic increases in health care during pregnancy and childbirth, which research has linked to improved survival of both mothers and children. These changes are partly the result of policies that increased the number of trained midwives and removed the barriers that prevented rural women from accessing health care during pregnancy and delivery, including transportation. Nearly all (97 percent) of the wealthiest fifth received prenatal care by 2011, up from about 75 percent in 1992. While the gap between the richest and poorest fifths of the population narrowed, still 50 percent of the poorest new mothers did not receive professional prenatal care in 2011.
The share of home births has declined as maternal health care services have been expanded and access improved. The Moroccan health ministry has established maternity "waiting homes," where women from remote areas can stay along with family members for up to two weeks before their due dates in order to be close to a health care facility. Between 1992 and 2011, the share of births delivered at home declined from 95 percent to 61 percent for women in the poorest fifth of the population and from 73 percent to 14 percent for women with incomes in the middle fifth.
Improvements Include Expanding Services 
Despite the progress made, Morocco's family planning and health care programs could be improved in a number of ways. "Family planning in Morocco remains defined by one dominant method: the pill," said Roudi-Fahimi. The 2011 PAPFAM survey shows that 72 percent of women practicing family planning rely on the pill and 16 percent rely on traditional methods (see figure).6 The survey also shows that Moroccan couples hardly used sterilization or male condoms for contraception. Morocco's family planning program would benefit from expanding services to include more contraceptive choices, including condoms that prevent both pregnancy and HIV, she noted.
---
Contraceptive Use in Morocco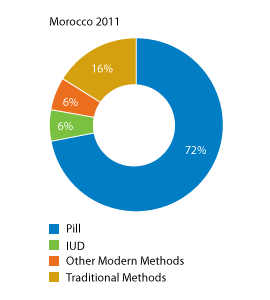 Note: Distribution of contraceptive methods used by married women ages 15 to 49.
Source: PAPFAM, special tabulations.
---
Moroccan family planning and maternal health services tend to focus on the needs of married women. Single men and women may avoid family planning and reproductive health services because of a lack of confidentiality as well as judgment by providers. Roudi-Fahimi argued that these programs should be expanded to serve unmarried couples who are sexually active—a relationship that is usually kept secret because it is not acceptable socially or legally. "The number of couples in such relationships is not high, but the fact that women in such relationships find it difficult to access family planning counseling and services puts their health and well-being in danger, particularly if they are young," she said.
---
Paola Scommegna is a senior writer/editor at the Population Reference Bureau.
---
References
Ministry of Health of the Kingdom of Morocco and United Nations Fund for Population Activities (UNFPA), Reducing Maternal Mortality in Morocco: Sharing Experience and Sustaining Progress (2011), accessed on June 6, 2011.
Donna Clifton and Ashley Frost, The World's Women and Girls 2011 Data Sheet (Washington, DC: PRB, 2011).
PAPFAM special tabulations.
M. Azelmat, M. Ayad, and E.A. Housni, Demographic and Health Survey: Morocco 1992 Final Report (1993), accessed on June 7, 2011; and PAPFAM special tabulations.
United Nations Statistics Division, Social Indicators, accessed on June 13, 2012.
PAPFAM special tabulations.