More Mothers of Young Children in U.S. Workforce
In recent years, more mothers of young children have entered the paid labor force. While the share of mothers with children under age 6 in the labor force has risen sharply, the rate for all working-age adults has remained relatively flat.
The recent economic recession, the steady decline in men's real earnings, the growth in single-mother families, and the increase in women's educational levels are some of the factors likely contributing to the growth in the proportion of mothers of young children in the workforce.
The labor force participation rate (the percentage of the population working or looking for work) for women with children under age 6 was 68 percent in 2011, up from 63 percent in 2005, according to PRB's analysis of new American Community Survey (ACS) data (see figure). At the same time, the rate for all women of working age (defined as ages 20 to 64) increased slightly, from 71 percent to 72 percent. During the same period, men's labor force participation rate dropped from 84 percent to 82 percent. Although the rate for all working-age adults stood at 77 percent in 2005 and 2011, the labor force has become slightly more female with the rising share of women—predominantly mothers with young children—and the decline in the share of employed men in the labor force.
---
Labor Force Participation Rates for Working-Age Population (ages 20-64), 2005 and 2011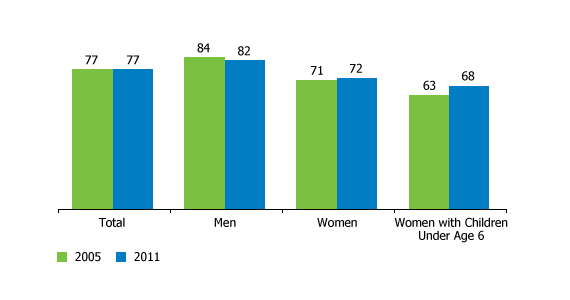 Source: U.S. Census Bureau, American Community Survey Public Use Microdata Sample (PUMS) single-year estimates.
---
Mothers of Young Children More Likely to Work Part-Time
Labor force participation rates generally do not distinguish between full-time work and part-time work. In 2011, only 18 percent of men in the labor force and 30 percent of women in the labor force worked fewer than 35 hours per week, according to ACS data. More than one in three women with young children (35 percent) worked fewer than 35 hours per week. Conversely, nearly two in three women in the labor force with children younger than age 6 (65 percent) worked full-time—35 hours per week or more.
Single Parenthood Explains Some State-Level Patterns
While 19 percent of all women in the labor force were single in 2011, 29 percent of women with young kids in the labor force were single mothers. The share of single-mother families has increased slightly in recent years, which has contributed to the overall increase in labor force participation among mothers with young children. Utah, the state with the smallest share of children in single-parent families, also had the lowest labor force participation rate of mothers with young children at 56 percent in 2011, a full 12 percentage points lower than the national average of 68 percent. The state with the highest share of children in single-parent families in 2011 was Mississippi, and 71 percent of mothers with young children in Mississippi were in the labor force.
This relationship between numbers of single mothers and labor force participation does not hold for all states, however. North Dakota and South Dakota had the highest labor force participation rates among mothers with young children in 2011, at 80 percent each, even though these two states have the lowest rates of unemployment and relatively few single-parent families. Analysts have suggested a variety of explanations for this regional pattern, including more highly educated women, more jobs in female-dominated occupations (such as education, services, and health care), and shorter commute times.
Like all workers, both single and married mothers may feel they need to remain employed to keep their skills from becoming outdated or to avoid lower earnings later in their careers; mothers also may feel that continuous employment keeps them competitive with childless women. Considerations such as retaining health benefits and accumulating years of service for retirement plans may also be deciding factors for some.
Growing Share of Mothers Choose Entrepreneurship
Out of all the working mothers with children younger than 6, 3 percent were self-employed in 2011, up from 2 percent in 2005. States with larger immigrant populations had higher proportions of working mothers who are entrepreneurs. In Arizona, Florida, Hawaii, and New York, 5 percent of working mothers were self-employed in 2011, compared to only 1 percent or less in Maine, South Dakota, West Virginia, and Vermont (states with few immigrants). While immigrants are more likely to become self-employed out of necessity rather than opportunity, some workers prefer self-employment. Even U.S.-born mothers with young children are finding entrepreneurship attractive because of flexible hours. The car-sharing company Zipcar and the educational-toy company Baby Einstein are just two of the many companies started by mothers of young children in recent years.
Today's Stay-At-Home Mothers Typically Have More Than One Young Child
Today, stay-at-home mothers are more likely to be younger and less-educated than their working-mom counterparts, and to also have significantly lower household incomes. Mothers with more than one young child are especially likely to stay home with their children. Even among highly educated women in science professions, those in the labor force typically "survive" the first birth but often decide to take time off after the second birth. The demands of raising multiple young children as well as child care costs for two small children may be too much for many women to balance. Studies show that women with many work and family responsibilities report higher levels of stress, eat family dinners less often, and tend to feel continually rushed. Access to reliable child care, a flexible or part-time work schedule, and the ability to work from home on occasion all help mothers with young children balance work and family responsibilities.
---
References
Sue Schellenbarger, "Where Are Women Working," Wall Street Journal, June 14, 2011, accessed on Nov. 1, 2012.
Suzanne M. Bianchi, "Changing Families, Changing Workplaces," Future of Children 21, no. 2 (2011): 16-36.
Carol Tice, "Zipcar: Two Moms, a Business Idea and $68 in the Bank", accessed on June 25, 2012.
Rose M. Kreider and Diana B. Elliott, "Historical Changes in Stay-at-Home Mothers: 1969 to 2009," paper presented at the annual meeting of the American Sociological Association, 2010.
Jennifer Glass et al., "Retention of Women in the STEM Labor Force: Gender Similarities and Difference With a Focus on Destination Status," paper presented at the annual meeting of the Population Association of America, 2012.
Kim Parker, "Women, Work and Motherhood," Pew Social and Demographic Trends (2012), accessed on June 25, 2012.
Jenifer MacGillvary and Laurel Lucia, "Economic Impacts of Early Care and Education in California," Center for Labor Research and Education, University of California, Berkeley (2011), accessed on May 9, 2012.