PRB Program Inspires Senegalese Journalist to Write Award-Winning Stories
(December 2015) Senegalese journalist Maimouna Gueye won a 2015 Global Health Reporting award from the International Center for Journalists for stories she wrote after participating in a program organized by the Population Reference Bureau (PRB) in southern Senegal and the capital, Dakar.
---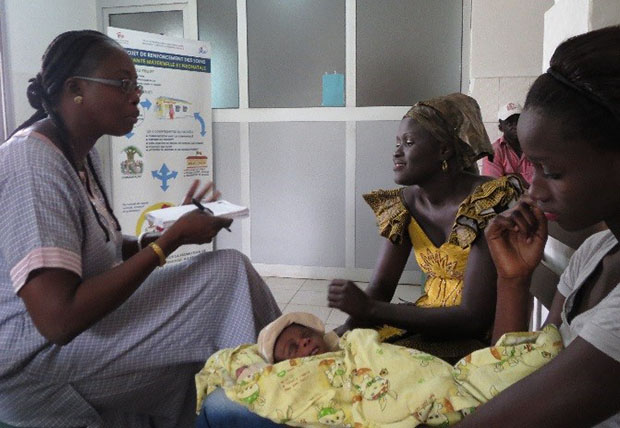 Maimouna at a clinic interviewing women who had returned with their babies (humanized childbirth).
---
Her stories focused on high rates of teen pregnancy in the Ziguinchor region of southern Senegal, a "freestyle" method of natural childbirth, and reproductive health care among migrants in informal settlements in central Dakar. Gueye is the editor-in-chief of Senegal's national daily, Le Soleil, and coordinates the newspaper's health section.
She was among more than 150 journalists who submitted stories for the 2015 Global Health Reporting Contest. Six winners were selected and honored at an awards dinner in New York on Dec. 7.
Gueye was among six journalists from Dakar and five from southern Senegal who participated in a PRB study tour in the Ziguinchor region in March/April 2015. This region was chosen because of its high rate of teenage pregnancies and low use of contraceptives. It has among the worst health indicators in the country, due partly to its distance from Dakar, and because until recently it was the center of a secessionist movement that led to years of violent conflict with the Senegalese military.
---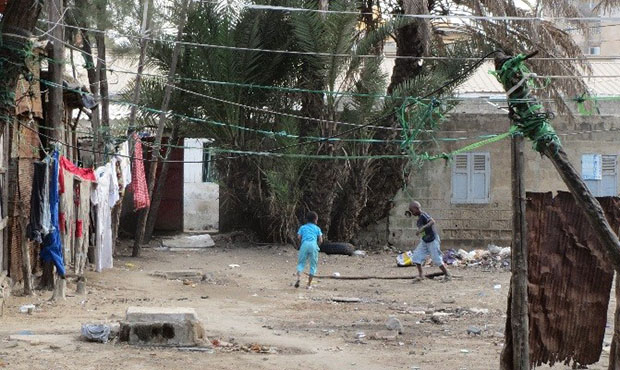 The Dakar migrant community.
---
The journalists met with officials from the Health and Education ministries and visited youth centers and schools. They were most energized when they talked to young people—ranging from students in one-room schoolhouses to out-of-school youth driving motorcycle taxis. Perhaps the most moving stories, though, came from their interviews with young women living in an urban slum located close to a military barracks. As Gueye described in her story, the majority of these women already had one or two children, often fathered by soldiers stationed in the nearby camp, and saw little hope for the future.
Another of Gueye's winning stories evolved from a site visit during a four-day workshop in May 2014 that PRB organized for journalists from the nine countries in the Ouagadougou Partnership (OP), a regional initiative aimed at increasing use of family planning. Twenty journalists participated in the workshop focused on their countries' OP commitments to increase access to contraception. The program included presentations as well as site visits. One that most interested the journalists was to a newly renovated clinic using the concepts of natural childbirth to improve maternal and infant health.
The clinic is a project of Senegal's Ministry of Health and the Japanese government and uses the term "humanized childbirth" to describe the various alternatives it provides to women for "freestyle" deliveries. Rather than having no option other than lying on a delivery table and having limited movement, the clinic was configured to enable women to be in whatever position they choose when they deliver their babies, whether standing, sitting, squatting, or lying on a mattress.
Gueye's third story resulted from a December 2013 PRB workshop that focused on the lack of family planning services for migrants and others in the low-income neighborhoods of the Senegalese capital, called Dakar Plateau. It is a busy, downtown residential area for the very rich, who live in the old colonial neighborhoods, and the very poor, who live in shacks and tents in the hidden areas behind the main streets, between buildings, and around the bus and train stations. Among the poor, unmet need for contraception is high.
During the one-and-a-half-day workshop, six journalists heard presentations from Dakar health workers, interviewed the mayor of Dakar Plateau, and visited health centers and neighborhoods where migrants live, often without electricity or running water. In her article, Gueye described the health challenges residents face, especially the deeply conservative Muslim migrants from Guinea who account for 90 percent of the births at a local health center. Most do not use family planning because they think it is only for preventing pregnancy permanently; many are unaware that it is also a way to space births two or more years apart to ensure healthier babies and protect the health of older siblings.
---
Links to Stories: