What Is World Population on World Population Day?
In 1989, on the first World Population Day designated by the United Nations, there were 5.2 billion people living on Earth. On July 11, 2015, we will be 7.336 billion, according to calculations by the Population Reference Bureau (PRB). This is up about 100 million from World Population Day 2014, meaning the equivalent of another Philippines or Ethiopia has been added to the planet.
What does the future bring? In mid-August, PRB will release its 2015 World Population Data Sheet with population projections for 2050. Below is a preview of numbers for the largest countries: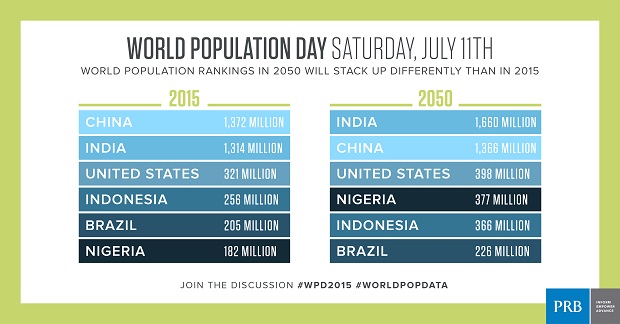 The Rural-Urban Balance
World population is now majority urban, but there are regional differences. For example, the populations of Africa and Asia—the biggest world regions—are still majority rural, with women in rural areas having more children than their urban counterparts. Use of modern contraceptive methods is generally higher in urban areas. Asia will soon become majority urban, but Africa, currently 60 percent rural, will not become majority urban for at least 20 more World Population Days.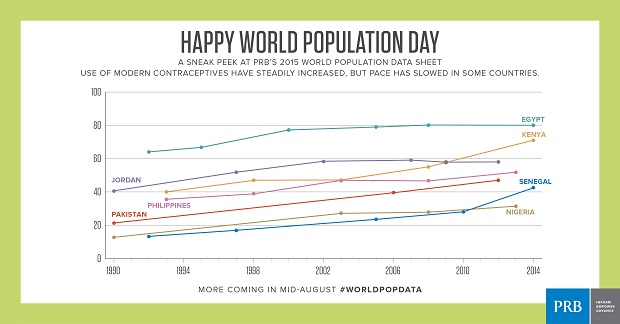 Linking Population and Development
Sound population policies and sound development are closely linked. The United Nations Millennium Development Goals (MDGs), which expire this year, identified unmet need for family planning as an impediment to achieving Goal 5, improving maternal health. The Sustainable Development Goals (SDGs), which will succeed the MDGs and help frame the development agenda for the next 15 years, are likely to reinforce the critical role of family planning.
PRB is at the forefront of analyzing and communicating links between population and development. For example, PRB has partnered since 2006 with the William and Flora Hewlett Foundation to implement the Population and Poverty Research Initiative (PopPov) to help develop evidence on the economic impact of population dynamics. The latest PopPov research conference held in Addis Ababa, Ethiopia in June 2015, highlighted evidence on the relationships among women's and children's health, access to health care, and economic well-being (including education and employment), providing insight relevant to achieving the SDGs. This body of research has shown that investing in human capital through women's health and education contributes to sustainable development.
Harnessing the Demographic Dividend
Investing in human capital can also result in a demographic dividend, the boost in economic growth that can result from changes in a country's population age structure as fertility rates decline. Over the last decade, for example, Ethiopia has experienced declining fertility rates and has made strong progress in improving the health and development of its people. If the country continues to make substantial investments in reproductive health and family planning, fertility levels may continue to decline, and surviving children will be more likely to achieve better basic levels of health.
A new website on the demographic dividend, co-hosted by PRB and the Bill & Melinda Gates Institute for Population and Reproductive Health at the Johns Hopkins Bloomberg School of Public Health, provides materials available from a number of organizations engaged in research, advocacy, and policy work on the topic. PRB's new interactive feature showcasing successes under the USAID-funded IDEA project highlights work on the demographic dividend.
While the demographic dividend can provide a framework for national policy agendas to achieve economic growth, PRB's Practical Guide to Population and Development addresses some key questions for decisionmakers to prioritize: How does population growth affect national development? What must be done to manage the challenges of population growth? The guide identifies some of the investments that are needed in family planning; education; and infant, child, and adolescent health to benefit from the demographic transition.
Engaging Decisionmakers
PRB also works at the country level to engage policymakers. For example, in Ghana, the issues of population growth and family planning are central to Ghana's national development. On July 8, PRB and the National Population Council launched the multimedia advocacy tool, "Ghana on the Rise: Investing in Population and Development," in Accra. The presentation, designed to promote policy dialogue on the critical role of population growth and family planning in achieving development goals, was viewed by high-level officials, including representatives of the vice president's office, ministers of state and health, and the National Development Planning Commission.
"Ghana on the Rise" explores two scenarios: If Ghanaians continue to have families with an average of four children, the country will grow from 27 million to 60 million by 2050. But by addressing the reproductive health needs of families with a special focus on family planning, the population would reach a more sustainable 40 million.
In 2050, will world population growth rates be at manageable levels? Will governments be taking advantage of lower fertility rates to spur economic growth? PRB is working hard to ensure this is the case.
---