Will Other Countries Follow Canada's Lead?
(November 2015) Women's participation in government gives them a direct say in the policies, laws, and regulations that affect their lives. Canada, for the first time in its history, has achieved gender parity in the federal cabinet: Newly elected Prime Minister Justin Trudeau divided the cabinet posts evenly between men and women—15 each—and made news headlines. When asked to explain his decision, Trudeau told reporters: "Because it's 2015."1
However, Canada's national parliament is only 25 percent women.2 Globally, the total number of women in national parliaments (or equivalent legislative bodies) has almost doubled in the last 20 years, according to UN Women. Still, women's share of seats remains relatively low, although quota systems have bolstered women's leadership in many countries.3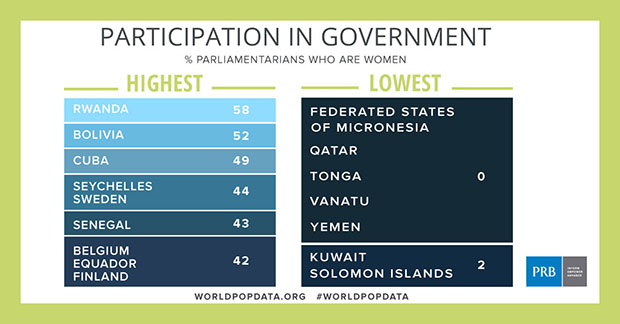 Experts cite 30 percent as a minimum threshold for women having a meaningful share of national legislative seats. Even many developed countries, including the United States, Singapore, and France, have not reached this level. Take a look at PRB's 2015 World Population Digital Visualization, with a special focus on women's empowerment, to see how other countries fare in gender parity in government.
For example, Rwanda holds the top spot in women's share of national parliamentary seats. After Rwanda's 1994 genocide, which especially decimated the male population, women received many key government appointments. In 2003, a new constitution was passed that created a minimum quota for women in all government offices. Presence in government has coincided with increased rights for women such as owning and inheriting property, and national mandates to reduce violence against women.
---
References
Jessica Murphy, "Trudeau Gives Canada First Cabinet With Equal Number of Men and Women" (Nov. 4, 2015), accessed at www.theguardian.com/world/2015/nov/04/canada-cabinet-gender-diversity-justin-trudeau, on Nov. 11, 2015.
The World Bank, "Proportion of seats held by women in national parliaments (%)," accessed at http://data.worldbank.org/indicator/SG.GEN.PARL.ZS, on Nov. 13, 2015.
Population Reference Bureau, World Population Data 2015: Focus on Women's Empowerment (August 2015), accessed at www.worldpopdata.org, on Nov. 12, 2015.