Women's Edition: Photos From Tharparkar, Pakistan
(March 2011) Farah Zahidi Moazzam of Pakistan is one of 13 journalists from around the world in PRB's current Women's Edition. In honor of International Women's Day, she recently traveled 6.5 hours by car outside of Karachi to the remote and food-insecure district Tharparkar. She wrote: "As this day celebrates the success and courage of women of the world, this write-up celebrates the women of Pakistan, particularly of Tharparkar. The success of these women and the people helping them is in fighting the odds and living with dignity." These photos capture what she found there.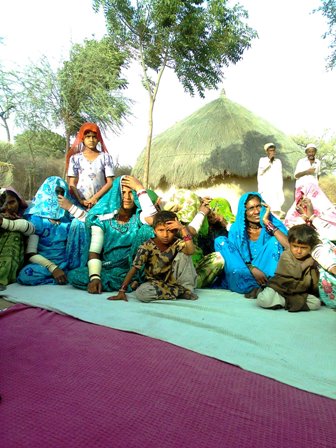 Tharparkar, a highly food-insecure region of Pakistan has a majority Hindu population. Both Hindus and Muslims coexist peacefully and we see both in this picture. The women wear white bangles up to their elbows if they are unmarried, and the entire length of their arm if married.
---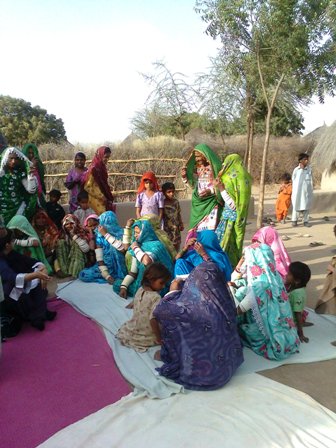 Amidst nothing but sand, the inhabitants of the village of Mithrao Chakar spread out their best linen to greet guests, and gather to meet us. Available to afford one or at best two meals a day of bread made of pearl millet and dried red cayenne pepper, their hospitality in spite of poverty is awe-inspiring.
---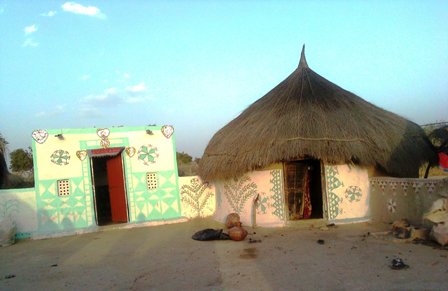 Art against the barren landscape of a desert…Natural dyes are used by women and children to paint their homes. Small circular clay huts covered with dried straw called khip covering the roof for insulation. Two tiny windows of approximately 6 by 10 inches is all the ventilation the huts have. They have tiny doors. Villagers, when asked, say that the doors are kept small so that the women stay healthy, active, and slim as they must bend down each time they go indoors.
---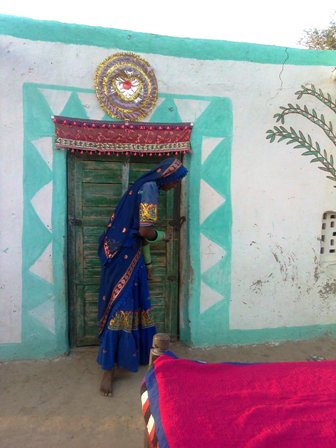 Red, purple, yellow, fuchsia. The women of Tharparkar dress in vibrant colors—perhaps as a defense mechanism again hunger and poverty.
---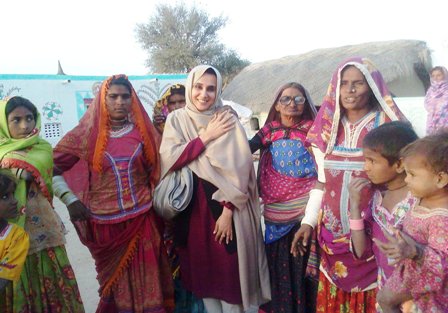 The women of Tharparkar and I sat together and talked. They held my hands. We talked about our children. I complimented their white bangles, which they wear up to their shoulders signifying they are married. We were women from very different backgrounds, connecting very comfortably. The women of Tharparkar, their inspiring struggles and hope in the face of it all have left an indelible mark on my heart.
---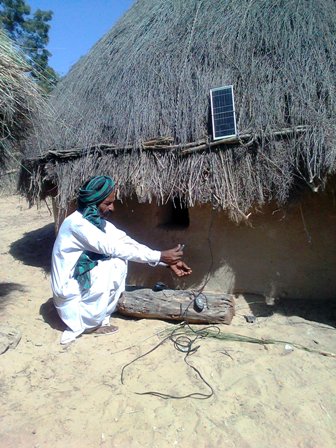 The power of technology! Even in such dire circumstances, the need to stay connected has forced small settlements of people to pool money and buy a tiny solar charger to harness the abundant sunlight in Tharparkar. The result? Many happy men of the neighborhood, such as this one, getting to charge their cell phones in an area where running water and electricity are a distant dream.
---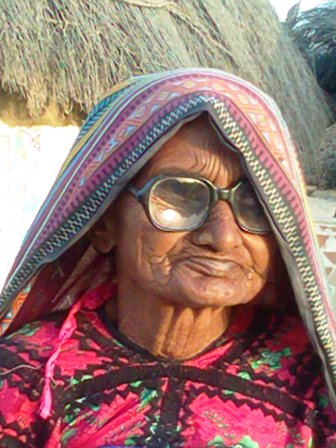 This seasoned face with wisdom etched over it is that of a daai (traditional birth attendant). The women of Tharparkar, like all of rural Pakistan, deliver babies mostly at home with the help of a daai, who usually inherits the profession from her mother. The daai usually charges $1.20 and gets a scarf as tip for helping deliver the baby and serving as a nurse for the mother. In case of a complication, a woman of this area might have to be taken in the state of labor to the nearest health facility on a camel or on her husband's back for a journey of hours.