Authors
Other articles in series
Editor's Note: Read the French version of this blog here.
The COVID-19 pandemic accelerated the rise of self-care by creating emergency conditions that relaxed some of the usual barriers to care. As we faced global health system challenges—supply chain disruptions, health worker shortages, travel limitations, and medical commodity and service inequities—we also saw the many ways in which people and communities are resilient, as health workers, health policies, and health systems adapted. PRB has contributed to making self-care safe and available, especially in Francophone West and Central Africa, where our partnerships help advance the value of policy dialogue and policy communication to promote self-care approaches.
The proliferation of self-care approaches to improving health outcomes responds to the gaps in services revealed by the pandemic. According to the World Health Organization (WHO), self-care is the ability of individuals, families, and communities to promote health, prevent disease, maintain health, and cope with illness and disability with or without the support of a health worker.1 This definition makes self-care an essential component of health systems, a robust means of promoting primary care, and a key step toward achieving universal health coverage. Expanded adoption of self-care approaches can help build systemic resilience for future shocks.
At the heart of self-care is individual agency. Women's economic and reproductive lives have been disproportionately affected by the pandemic because they have less access to social protection schemes and less capacity to absorb such shocks. Self-care approaches and tools, such as self-injectable contraceptives or self-management of medication abortion, offer women more control over their lives, as well as access to basic care and more dignity during humanitarian crises. Yet often the policy and regulatory environment for self-care is limited. In Francophone West and Central Africa, women of reproductive age often cannot access the services they need, hampered by the stressors of the COVID-19 pandemic, health system failures, distance to facilities, and social norms that influence reproductive health choices. In addition, this area is one of the most climate-vulnerable regions on Earth and faces some of the world's highest birth rates, both problems exacerbated by persistent conflict.
PRB has strong government and civil society partners throughout the region and brings both longstanding strengths and innovations to the emerging self-care space. One of our strengths is our ability to initiate and sustain policy dialogue. PRB was among the founders of the Senegal Self-Care Pioneers Group, which leads communication, awareness-raising, and advocacy efforts to support self-care interventions within the national health care system. We also worked with Senegal's Ministry of Health, as well as national and international organizations, to elaborate the national guidelines on self-care. In addition, as part of the global Self-Care Trailblazer Group's Evidence and Learning Working Group, we contributed to the 2021 Self-Care Learning and Discovery Series, which brought awareness to promising self-care approaches.
Through this work, PRB is  accelerating the conversation on the importance of expanding WHO guidelines and codifying them into national health strategies to promote self-care. PRB advances evidence around the potential for self-care to expand access to health care in regions with weak or non-existent health systems, including rural areas and regions facing conflict or humanitarian crises. We promote the idea that sustainable self-care requires careful collaboration across sectors, including education, youth, financing, and social protection.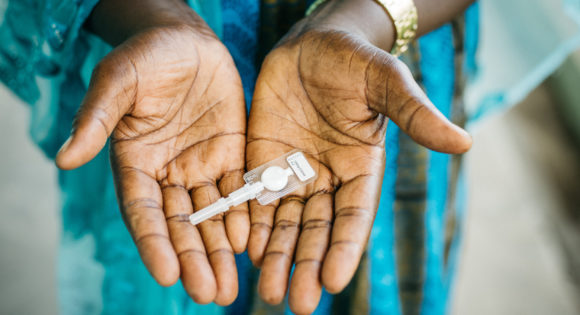 In Nigeria, injectables are among the most popular modern contraceptive methods for married women.2 Yet persistent barriers mean that as of 2018, one in five married women ages 15 to 49 who want to delay or space their pregnancies are not using contraception. 3 PRB partnered with the Association for Reproductive and Family Health (ARFH) to co-create a strategic policy communication package that advocates for making DMPA-SC, a self-injectable contraceptive, fully available through community-based distribution.4 A video and series of state-specific policy briefs called on state ministries of health to complement the federal Ministry of Health's effort to introduce, roll out, and scale up DMPA-SC.
DMPA-SC allows women to easily and discreetly self-inject where they live and work, rather than travel to a health care clinic. Self-care also helps health care workers "to be more efficient in service delivery…[because they can] tailor their attention to more critical patients," says Dr. Kehinde Osinowo, chief executive officer of ARFH Nigeria. Ultimately, self-care is cost-saving for both people and the health system. Indeed DMPA-SC self-injection holds great promise for achieving FP2030 goals and improving access to family planning. ARFH also supported the Ministry of Health in rolling out national self-care guidelines in 2020, a response to the pandemic.5
In the Democratic Republic of the Congo (DRC), which faces one of the highest maternal mortality ratios in the world (473 maternal deaths per 100,000 live births), PRB worked with partners in South Kivu province, Solidarité avec les Victimes et pour la Paix (SOVIP) and Groupe de Volontaires pour la Promotion de la Maternité Sans Risque (GVP-MASAR/RDC). Together, we translated data into messages for advocates to promote an enabling policy environment for access to medication abortion.6 "Inequalities in people's living conditions are a key social factor that makes access to care unequal," according to François Elungi (SOVIP) and Jess-Alfred Nondho Ombenny (GVP-MASAR/RDC).
The DRC domesticated the Maputo Protocol in 2018, effectively expanding the categories under which safe abortion is legal in the country, but its implementation was delayed by COVID-19 and decentralization, making legal change slow to reach the provinces. In Eastern DRC, decades of conflict and humanitarian crises, combined with a weak health system and COVID-related service interruptions, led to spikes in gender-based violence, with few options for women to prevent or terminate unwanted pregnancy.7 With these partners,  PRB co-created advocacy tools that underscore WHO recommendations for self-management of medical abortion in high-stress settings. These tools can help women drive the demand for services like medication abortion so that "girls and women access care confidentially and without any stigma," Elungi and Ombenny say.
As self-care approaches become more valued and widespread, PRB aims to support partners, governments, and advocates to adopt self-care frameworks and raise the profile of self-care as a cross-cutting policy solution that amplifies resiliency and responds to the challenges of  sustainability. Self-care is integrally linked to primary health care and universal health coverage; policy dialogue on self-care is critical to enable improvements and promote resiliency in health systems.
References
1. World Health Organization (WHO), WHO Guideline on Self-Care Interventions (Geneva: WHO, 2021).
2. Nigeria National Population Commission (NPC) and ICF International, Nigeria Demographic and Health Survey (DHS) 2013 (Abuja, Nigeria, and Rockville, MD: NPC and ICF International, 2014); NPC and ICF International, Nigeria DHS Key Indicators 2018.
3. NPC and ICF International, Nigeria DHS Key Indicators 2018 (Abuja, Nigeria, and Rockville, MD: NPC and ICF International, 2019).
4. DMPA-SC stands for subcutaneous depot medroxyprogesterone acetate.
5. Association for Reproductive and Family Health, "Resilient & Accelerated Scale-Up of DMPA-SC/Self Injection in Nigeria (RASuDiN)."
6. World Bank, "Maternity Mortality Ratio, Congo, Dem. Rep."
7. UNICEF, The Impacts of COVID-19 Outbreak Response on Women and Girls in the Democratic Republic of the Congo, 2020; and African Union Commission, UN Women, Office of the High Commissioner for Human Rights, and UNFPA, Gender-Based Violence in Africa During the COVID-19 Pandemic, 2020.