Technical Director, Demographic Research
Taylor Snyder
Founder and Executive Director, Maternal & Infant Health Consulting
As the COVID-19 pandemic strained resources and discouraged in-person interactions, family planning and maternal health programs around the world have had to adjust their approaches to maintaining and delivering care. Programs in low- and middle-income countries (LMICs) have increasingly turned to digital health tools, especially those that emphasize client autonomy, agency, and self-care in maternal and reproductive health.
To provide consistent, high-quality care that keeps both providers and clients safe, strategies that minimize time-consuming, indoor, and in-person activities have been thoughtfully designed and implemented—and in some cases evaluated and expanded.
The highlighted examples from India, Nigeria, and Uganda show how program managers and advocates responded to the pandemic by testing new approaches to support the ongoing use of reproductive and maternal health services. These interventions have helped: 1) raise awareness of accurate and relevant health information; 2) maintain or increase demand for services; 3) shift demand toward more self-care, giving users greater autonomy; and 4) allow for critical health services to continue to be accessible.
Nigeria: Nivi's Digital Chat Services Support Self-Care in Family Planning
Nivi is an online marketplace that supports self-care in family planning by collaborating with other organizations to meet the needs of clients in a timely manner. askNivi Nigeria, a private, interactive chat service, is accessible for free through WhatsApp and Facebook Messenger. As a digital marketplace for health resources, askNivi Nigeria offers targeted, easy-to-access information on reproductive, maternal, and primary health services as well as geolocated referrals to drug stores, health care facilities, and e-commerce sites.
Nivi collaborated with Pathfinder International to develop the content for askNivi Nigeria during the COVID-19 pandemic. The chatbot provides those who are pregnant with gestationally timed information, referral to antenatal care (ANC) and postnatal care visits including family planning counseling, and access to supplies; it also solicits feedback on care visits. The chat experience is intended to be simple to understand, access, and use, aiming to:
Inform: askNivi provides much needed, free digital health solutions to educate individuals who are pregnant and their partners about health needs during pregnancy and postpartum as well as their children's needs. askNivi users in Nigeria have free access to 48 weeks of curated content—from week 10 of pregnancy through 15 weeks postpartum.
Connect: As a digital marketplace, askNivi connects people with reliable local vendors to purchase family planning and other health products, through public and private markets. Given the supply chain disruptions during the pandemic, this marketplace approach can play an important role in facilitating health care access and self-care.
Refer: askNivi provides supportive reminders and access to in-person antenatal and postnatal health evaluations. The reminders are critical to referring individuals to clinics and thus supporting timely administration of family planning services and reducing time burdens on health care workers. Since launching as a pilot in Kaduna State in mid-2021, Nivi has onboarded more than 700 users in ANC conversations, and 150 women reported ANC clinic visits after receiving askNivi referrals.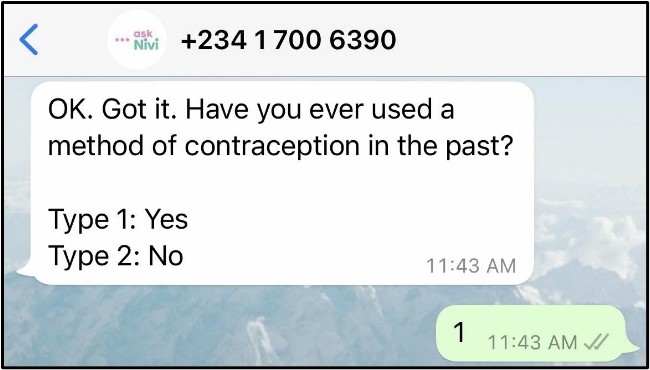 India: PSI's Social Business Unit in India Supports Clients via Digital Acceleration Strategy
Launched by PSI's Social Business Unit (SBU) in 2015, PSI India Private Limited (IPL) provides safe, affordable, and effective health care products, including contraceptives, to help individuals lead healthier and more productive lives. As COVID-19 spread, the India team rapidly adapted and localized the SBU's global digital acceleration strategy to ensure continuity of health services while keeping staff, clients, and communities safe. New partnerships and digital technologies have allowed PSI IPL to virtually support individuals' family planning journey.
PSI IPL's adaptations promote access to family planning self-care information through social media, enhance decision-making through one-on-one online interventions, and deliver high-quality family planning products through innovative distribution models:1
Educate: Between Us launched in June 2020 as an Instagram and Facebook promotion campaign targeting women ages 18 to 34. The campaign reached over 1.2 million people with family planning self-care information and received more than 47,000 interactions by November 2020.
Link: The Between Us campaign linked consumers to personalized one-on-one digital support through a Cyber Educator and the Nivi Chatbot. Through the two types of online interventions (human operated and artificial-intelligence powered), consumers received personalized family planning information and secured virtual appointments with a health care provider. From July to November 2020, nearly 40% of Between Us visitors interacted with the Cyber Educator: around 9,000 clients had conversations and over 1,500 clients who were referred for consultations.
Deliver: PSI IPL partnered with an e-consult website to connect clients to health care providers for customized family planning counseling. Clients were then linked to an e-pharmacy to purchase their contraceptive products. Additionally, PSI IPL partnered with a large online pharmacy to distribute short-term family planning products (such as birth control pills) and allow clients to consult a doctor and receive a free prescription within hours.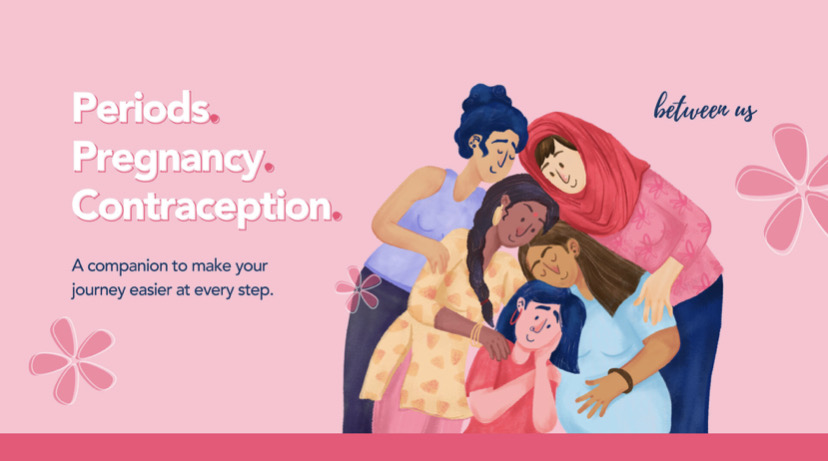 Uganda: PATH Pivots to Virtual Engagement to Train Health Workers
PATH, a global nonprofit dedicated to achieving health equity, had been trying new, lower-cost ways to train health care providers in Uganda. When the pandemic hit, this became more important than ever. New approaches included virtual engagement (VE) training on the use of DMPA-SC (subcutaneous depot medroxyprogesterone acetate), an easy-to-use, self-injectable contraceptive that protects against pregnancy for three months. Now offered as a PATH-JSI Access Collaborative resource, the training is available as a two-lesson self-injection course package or a full 10-lesson course, which health workers in any country can take for free.
VE training has been essential in Uganda and in many other countries during the pandemic, as the combination of lockdowns, social distancing, and quarantines have made in-person health worker training difficult, if not impossible. Despite the potential downsides of VE versus in-person training (such  as possible decreased student engagement), several benefits of incorporating VE in health care settings have been made clear as the pandemic has continued:
Flexibility: Pre-recorded VE can be completed at a provider's own pace. This supports providers to maintain essential services while receiving training. It also ensures that information is shared consistently and accurately.
Convenience: VE reduces travel time and travel-related costs, alleviating burden on training institutions and students.
Morale: VE helps boost the morale of learners toward their "call of duty" in health care, as VE innovations allow health work to continue.
Reduced Exposure: VE can take place without an indoor classroom, helping protect students and teachers from COVID exposure.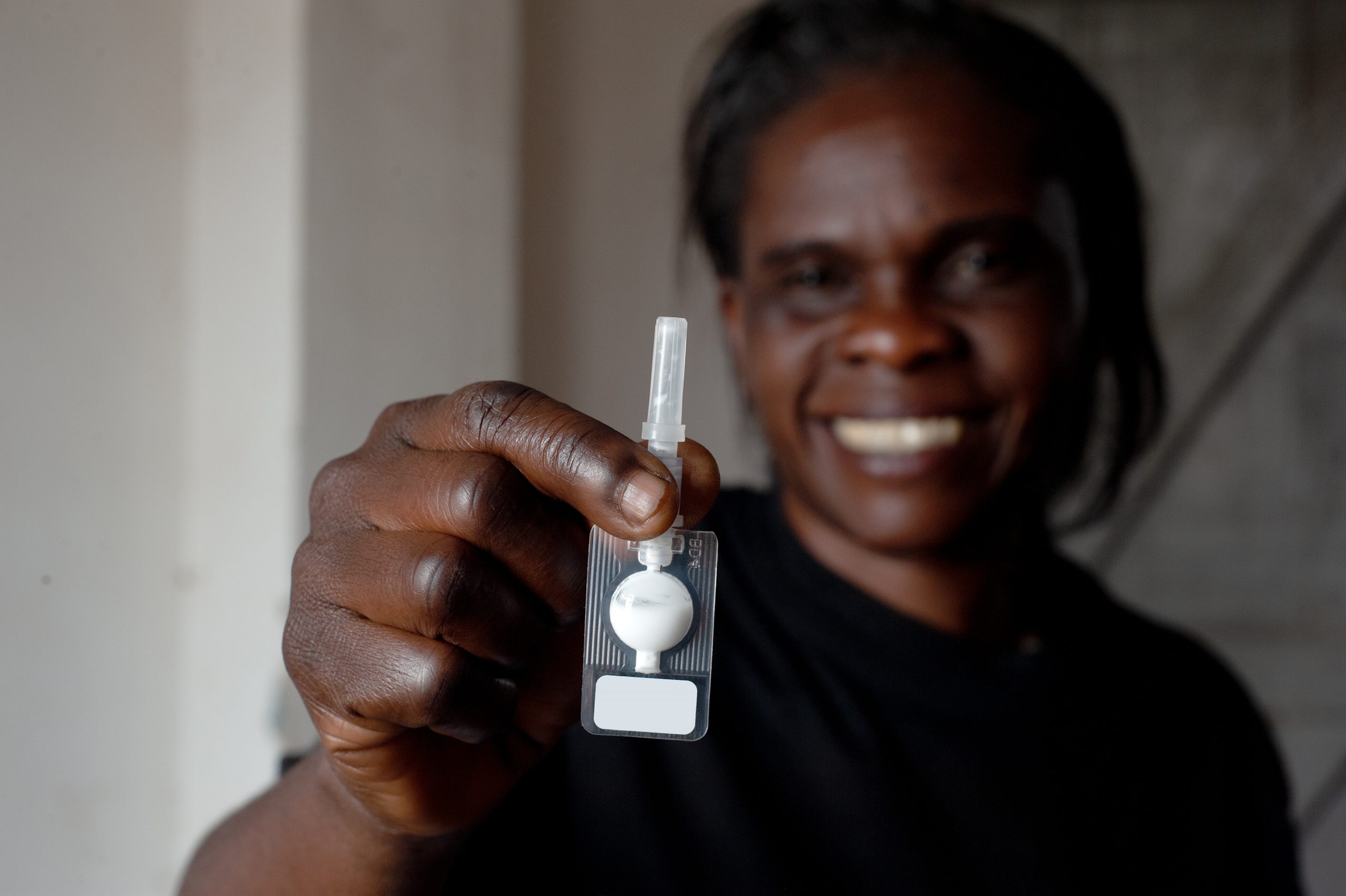 What's Next?
Digital health interventions, such as those implemented by Nivi, PSI IPL, and PATH, are helping decisionmakers pivot family planning programs in LMICs as COVID-19 continues to change the health care landscape.  Even when global infection rates decline and makes accessing in person family planning services safer, the demand for digital health services is likely to continue to increase. As the pandemic and public health environments continue to evolve, it will be increasingly important to design and develop digital health solutions that provide individuals with choices and autonomy in family planning care.
For More Information
Launched by the PACE Project at PRB and currently managed by the Medical Concierge Group in Uganda, the Digital Health Compendium is a comprehensive resource on family planning programs that leverage digital health tools for family planning and reproductive health.
References
1. PSI's COVID-19 adaptations were documented by Research for Scalable Solutions (R4S), a global project funded by USAID and led by FHI 360 in partnership with Evidence for Sustainable Human Development Systems in Africa (EVIHDAF), Makerere University School of Public Health in Uganda (MakSPH), Population Services International (PSI), and Save the Children (STC).  More information about these and other adaptations can be found here.