2019 American Community Survey Data Users Conference Highlights
In May, Linda Jacobsen, Lillian Kilduff and I helped organize a conference for nearly 300 American Community Survey (ACS) data users. This is the fourth ACS conference PRB has organized in partnership with the U.S. Census Bureau since 2014. If you missed the conference this year, don't worry. We posted PDF versions of the conference presentations and recordings of the plenary sessions on the conference website.
2019 ACS Conference - Updates on the ACS and 2020 Census: Agility in Action
Organizing a conference is kind of like organizing a wedding. It involves a lot of preparation, and when the big day finally arrives, you spend a lot time making sure everything is running smoothly. But now that a few weeks have passed, I wanted to take a step back and summarize some of my key takeaways from the event.
The conference began with some Census Bureau updates on ACS activities and operations. Steven Dillingham, the Census Bureau Director, expressed the importance the ACS and said "data users are the key to the continuous improvement" of the flagship survey. Regarding the 2020 Census: Dr. Dillingham said operations are on track, but with more than 26,000 distinct activities, there is still a lot of work to be done.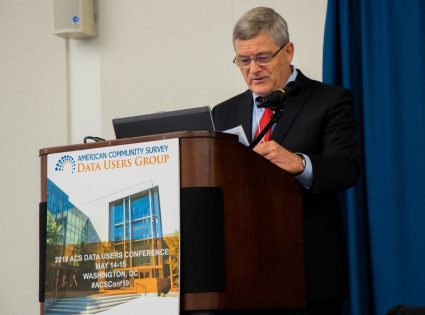 Steven Dillingham, Director, U.S. Census Bureau
Jim Treat (Assistant Director for Decennial Census Programs) announced the 2018 ACS data release schedule, which has shifted because of the lapse in federal funding earlier this year. He also provided high-level updates on several ACS Program activities, including a recent Workshop on Improving the American Community Survey,  the new data.census.gov platform, efforts to ensure respondent confidentiality, and updated ACS Data User Handbooks, which include detailed case studies on how ACS data are being used for decisionmaking.
Next, Jennifer Ortman (Assistant Division Chief for Survey Methods and Measures in the American Community Survey Office) summarized the Census Bureau's ongoing efforts to ensure the quality of ACS data. These efforts include changes to the 2019 ACS questionnaire and plans to use administrative records to reduce respondent burden, increase data reliability, and reduce costs.
Protecting Respondent Privacy
The plenary session on Day 2 began with a Census Bureau update on new "disclosure avoidance" methods that could have long-lasting implications for ACS data users. As computational power has grown, privacy concerns and the risk of someone "re-identifying" ACS respondents has also increased.
Rolando Rodríguez (Research Mathematical Statistician at the Census Bureau) described the Census Bureau's preliminary plans to ensure respondent confidentiality in the ACS. The bottom line is that the ACS will transition to formal privacy methods, but the Census Bureau is currently focused on protecting confidentiality in 2020 Census data, and it's too early to say exactly how ACS data might be affected by new disclosure avoidance methods.
The formal privacy methods developed for the 2020 Census will inform ACS methods, but the ACS has additional features—more topic areas, complex survey design and survey weights, and population controls—that need more research. Once developed, the methods will be used to balance data privacy and data accuracy in the ACS data. For now, the Census Bureau plans to release the "standard complement of ACS tables and public-use microdata (PUMS) for 2018," but is exploring the possibility of expanding the use of synthetic data to protect the PUMS data. Rolando also emphasized the Census Bureau's commitment to data user involvement and feedback as these new formal privacy methods are adopted for the ACS.
Streamlining Data Dissemination
Zach Whitman (Chief Data Officer at the Census Bureau) began his presentation with this chart, which shows the complex web of data tools currently available through the Census Bureau's website.
This "forest of applications" is being replaced with a more centralized system (data.census.gov) designed to simplify access to Census Bureau data, including ACS estimates. What does this mean for ACS data users? Starting in June 2019, there will be no new data releases in American FactFinder (AFF). Zach encouraged data users to visit the new site and provide feedback: What you like and don't like, and what changes you would like to see in future iterations (Email: cedsci.feedback@census.gov).
In her remarks, Connie Citro (Senior Scholar at the Committee on National Statistics) applauded the Census Bureau's efforts to invite input from ACS data users but encouraged more "systematic, two-way interaction" between data users and Census Bureau staff "to best ensure that new privacy protection techniques and the new platform are implemented with full consideration of alternatives and user needs."
ACS Data User Insights
The plenary sessions focused on informing data users about Census Bureau activities, but the main purpose of the conference was to showcase the work of ACS data users. The program included more than 50 presentations from data users representing a broad range of government agencies, academic institutions, and private-sector organizations.
Breakout session topics included:
ACS Resources and Tools
Using the ACS to Study Racial, Ethnic, and Geographic Variations in Health
ACS Data for Rural and Tribal Communities
Combining ACS With Other Survey or Administrative Data
Developing Estimates and Projections Using ACS Data
Using the ACS to Analyze Poverty and Income
Using ACS Data to Measure Disparities in Internet Access
Using ACS Data in the Classroom
Measuring ACS Data Quality
Innovative Uses of the ACS for Housing Analyses
Lightning Session
Advanced Tools Using ACS Data
Aggregating ACS Data for User-Defined Areas
Innovative Health Applications with ACS Data
During lunch on the first day, many ACS data users participated in informal meetups to discuss various topics and issues related to ACS data, including:
ACS and Big Tech: Applications of ACS data for tech companies
ACS PUMS: Techniques and working with margins of error
Journey to work data: Implications of new allocation process for ACS tables
Small-area estimation with ACS data
Undercount of children in the ACS
And during lunch on the second day, Census Bureau staff were on hand to lead product demonstrations and topical roundtables:
2020 Census Integrated Partnerships and Communications Program
About the Data Dissemination Program
American Community Survey General Information
Ask Our Subject Matter Experts
Census Academy
Creating Custom Tables with PUMS on data.census.gov
Utilizing OnTheMap for Response and Recovery during a Natural Disaster
Geography and the American Community Survey
Hispanic Origin and Race Questions
Introducing Census Business Builder
Planning Database and Response Outreach Area Mapper
Transitioning from AFF to data.census.gov
I want to thank all of the data users and Census Bureau staff who attended the 2019 conference, presented their work, and posted conference updates on Twitter.
A special thanks to members of our ACS Steering Committee and our Census Bureau partners for their help in organizing the conference. Their behind-the-scenes efforts were critical to the success of the event.