Quick Links
Family Planning: A Strong Investment for India
Although young adults in their 20s and 30s bore the brunt of the Great Recession (2007 to 2009), many Americans ages 50 and older were also affected by rising unemployment, falling home values, and the decline in the stock market.
Compared to other age groups, older adults nearing retirement (ages 55 to 64) saw the largest decline in the dollar value of their wealth, while those in the 35-to-54 age group experienced the largest percent decline in wealth between 2007 and 2011 (see figures).
---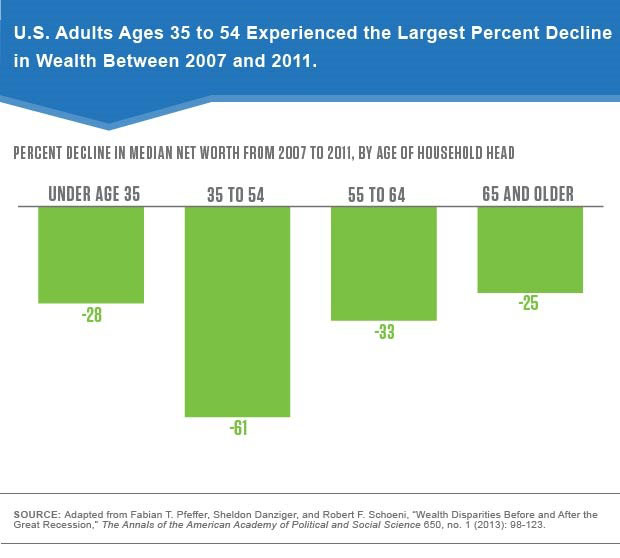 ---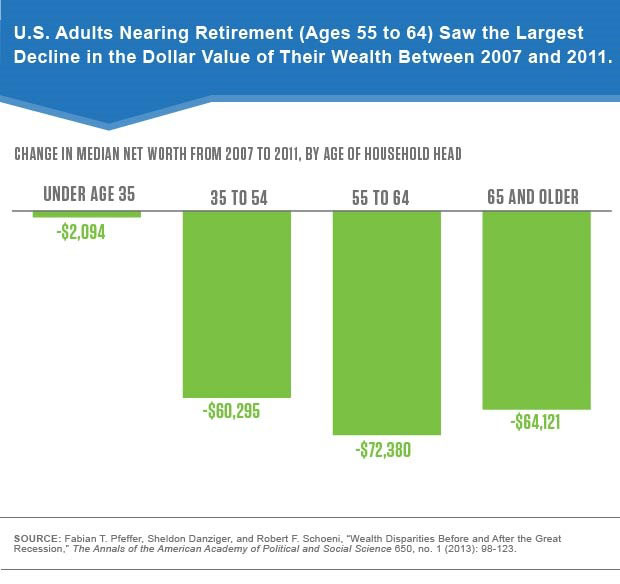 ---
Many adults ages 50 and older who were not directly affected by the recession had children or other family members who were.
Largely because of their access to Social Security benefits, adults ages 65 and older were relatively insulated from the prolonged economic downturn: While poverty rates increased sharply among children and working-age adults during the recession, the poverty rate for retirement-age adults remained unchanged.
This report summarizes recent research conducted by National Institute on Aging-supported researchers and others who have studied the effects of the recession on the health and well-being of older Americans. This research is important not only because older adults make up a growing share of the population and labor force, but also because of the potential implications for health care systems, retirement decisions, and future Social Security payments.
Key Findings
Depression increased sharply among older adults living in neighborhoods where foreclosures were most prevalent, even after taking factors such as poverty into account.
Older adults were disproportionately affected by a loss of retirement savings during the recession, while younger adults were more affected by the decline in home values.
Laid off older U.S. workers were more likely to experience depression than their European counterparts who lost jobs, likely reflecting Europe's strong social safety net.
Adults ages 55 to 64 were much more likely to reduce their spending during the recession than those ages 75 and older.
Financial help within families during the recession flowed primarily from older parents to adult children.
By 2012, households headed by older adults had recovered most of the wealth they had lost during the recession.
Webinar: 2011 World Population Data Sheet
Recent World Population Data Sheets
View All